Marijuana Tour Guide: Uh, We Definitely Warned Maureen Dowd About Weed Edibles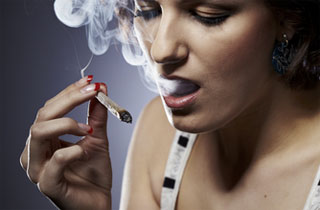 Thanks to Maureen Dowd's recent column (which should be titled Reefer Madness Pt. 2: Electric Bong-a-loo), the world now knows the terrifying truth: Maureen Dowd knows nothing about weed. And in an interview with The Cannabist, Denver-based tourism guide Matt Brown said that she was warned multiple times that eating a large amount of weed-laced candy bar wasn't the best idea. He should know, because he took her on a citywide weed tour.
"She got the warning," Brown, the CEO of My 420 Tours, told the Cannabist. "She did what all the reporters did. She listened. She bought some samples — I don't remember what exactly. Me and the owner of the dispensary we were at and the assistant manager and the budtender talked with her for 45 minutes at the shop."
Brown also added that during her multi-day tour of Denver's finest bud shops, he repeatedly emphasized that different types of weed would cause different reactions in different people. "In the context of covering all the bases with a customer, we really went into depth to tell this reporter, who would then tell the world, about marijuana in Colorado" (He also added that Maureen Dowd didn't know how to roll a joint, which, to be fair, is hard.)
Despite his due diligence (or should we say DOOBY DILIGENCE, kill me), Brown says he didn't know that Dowd had a bad experience until four months after their meeting, when she called him "a few hours" before her column appeared on the New York Times's website and revealed that she had a bad experience. And though he immediately tried to explain some key weed facts — such as ""never eat weed by yourself" — none of his exhortations made it into her column.
At the very least, Brown is happy that no one took Dowd's column seriously:
"I like Maureen Dowd because she's snarky. I expect snarky," said Brown. "After reading the first column I had an understanding of how she approached pot. But since a lot of the things we'd talked about a couple hours earlier ended up not making the article, I wondered what questions that left unanswered or if it was open to interpretation. It's one thing to see Nancy Grace say something boneheaded on TV.

"But the column wasn't viewed as all that serious. I don't see too many people making a serious point in the statehouse next session citing Maureen Dowd's column. It'll be a bubble. It'll go away, and in the future we won't look to Maureen Dowd for in-depth journalism on the Colorado marijuana industry."
Interested in trying marijuana? Here's a quick guide on how to not end up Dowding.
[The Cannabist]
[Image via Shutterstock]
—
>> Follow Tina Nguyen (@Tina_Nguyen) on Twitter
Have a tip we should know? tips@mediaite.com