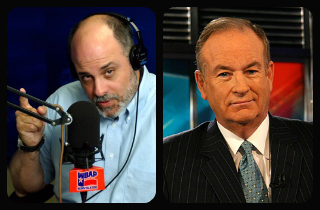 On Thursday night, conservative radio host Mark Levin attacked Fox News host Bill O'Reilly and the "has-beens" at CNN for their "hit" on Rep. Michele Bachmann after she was caught racing away from a CNN reporter confronting her over factually inaccurate claims about the president's "lavish" White House living.
On Tuesday, CNN reporter Dana Bash attempted to confront Bachmann over her claims that the president has an extraordinarily luxurious lifestyle, but was famously met with deflection and a race away from the camera. On The O'Reilly Factor last night, the eponymous Fox host criticized Bachmann for her "trivial attacks on President Obama [that] are obscuring serious problems in this country," emphasizing that the congresswoman's "small ball" behavior "trivializes" the real issues at hand.
"Why is Bill O'Reilly doing a hit on Michele Bachmann the way he did a hit on Sarah Palin the other day?" Levin asked before mimicked the host by mock-asking questions about how many chefs were on Air Force One.
"'Have conservatives hurt themselves over criticizing Obama over crazy stuff?' What kind of question is that on Fox?" an exasperated Levin asked. "Isn't it enough we've got MSLSD to contend with, and CNN to contend with? What are all these little cheap shots?"
Levin later explained that he'd like to "help our producer friends over at Fox" understand from where Bachmann got her "facts" about Obama's lavish lifestyle: a self-published book called Presidential Perks Gone Royal. The radio host read relevant portions of information about the book that suggested Obama does have an expensive dog handler.
"So who does walk Bo? Michelle's not around. Obama's not walking Bo. So who's walking Bo? If that's the big issue, then let's find out. Who's walking Bo, CNN?" Levin mocked before launching into a rant against the network:
Mr. Producer, would you call CNN? Who's even over there anymore? Who are the has-beens, wannabes, and backbenchers that populate CNN? I don't even know their names, not that I used to. Piers Morgan? Nah, let's call an American. Seriously what shows do they even have over there?
Eventually, he settled on Wolf Blitzer, asking his producer to call the CNN anchor's office to ask: "Does CNN know who walks Bo Obama?"
"Because they had a reporter chasing Bachmann and so crucial was that reporter chasing Michele Bachmann on that clip that Fox decided to run it," he fumed.
"Why? I have no idea. Because, you know, the folks want to know," he snarked.
Listen to the audio below (parts edited together by RightScoop):
— —
>> Follow Andrew Kirell (@AndrewKirell) on Twitter
Have a tip we should know? tips@mediaite.com