Mark Levin Rips Fox News for Not Challenging Trump: They'll 'Be Rubbing Their Faces In Their Own Feces'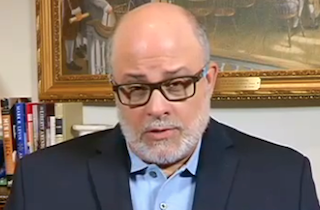 Mark Levin has made it clear in the past that he is not pleased with Donald Trump's outlandish antics. The conservative radio host was a supporter of Ted Cruz until his campaign's demise last night, and with his show yesterday, he joined the chorus of those saying Fox News has allowed itself to become Trump's mouthpiece.
Levin turned his attention to how Trump tried to suggest that Cruz's father, Rafael, was an associate of sorts with Lee Harvey Oswald, and he unloaded on Fox & Friends and Outnumbered for offering no significant challenge or context for the "insanity" of the spat. Levin pointed to it as proof that Trump was doing "a hell of a pathetic job" of uniting the country, and that a continuation of his antics would mean "we are going to get our asses kicked in the general election."
"You're not a news channel anymore. You're the Fox Channel," Levin said. "And what the hell is with the hosts on the Fox and Friends show? They didn't even challenge Trump! Not a damn question! Nothing! Zero!"
Levin also turned his ire to The Five, where he noted how Greg Gutfeld did the most to address how Trump was pushing a conspiracy theory, even as he and the other panelists mostly shrugged it off.
"They may be laughing today, but they're going to be rubbing their own faces in their own feces, I'll tell you that, after this general election, because they have humiliated themselves," Levin said. "Does Donald sound like he's cutting a joke? Does [Brian] Kilmeade sound like he's laughing? No it's very serious…The Democrats are loading up."
Listen above, via Conservative Review.
[Image via screengrab]
— —
>> Follow Ken Meyer (@KenMeyer91) on Twitter
Have a tip we should know? tips@mediaite.com