Mass. Senate Race Gets Ugly: GOP Candidate Calls Rival 'Pond Scum' For Bin Laden Imagery In Ad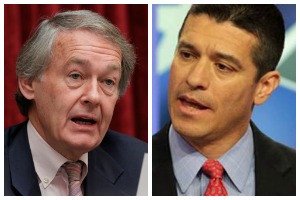 The Massachusetts special election race for the Senate is getting more combative, with election day only a month away. Democrat Ed Markey this month released a web video attacking Republican rival Gabriel Gomez for his connections to Special Operations OPSEC Education Fund, a group that was heavily critical of President Obama for how he handled the killing of Osama bin Laden. Markey's ad plants bin Laden's face next to Gomez, and during an interview on Thursday, Gomez responded by calling Markey "pond scum."
Despite acting as a spokesman for the group in a few interviews last year, Gomez denies being an active part of it. The Markey campaign posted a video on YouTube attacking Gomez, showing Gomez representing the group on MSNBC, and plastering images of bin Laden next to Gomez.
Gomez was clearly not happy about the ad, and yesterday, weeks after it was posted online, he slammed his opponent for resorting to that kind of attack.
"I don't think there's anything more offensive. You know I've got four young kids, and they gotta sit there and gotta see an ad with their dad — who served honorably, talk to anybody I served with — whether as a pilot or as a SEAL, anybody I worked with. And for him to be as dirty and low, pond scum, like to put me up next to bin Laden, he's just gotta be called what he is. It's that simple."
Markey did not directly respond to Gomez, but early today he did tweet out a link to a Washington Post piece calling out Gomez for his own "pond-scummy" tactics.
—–
Follow Josh Feldman on Twitter: @feldmaniac
Have a tip we should know? tips@mediaite.com
Josh Feldman - Senior Editor