Matt Drudge in Rare Interview: The Country is Divided, Shouldn't Media Be the Same?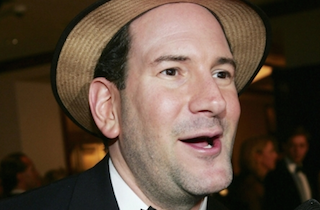 Matt Drudge, who has owned and operated The Drudge Report website for nearly 20 years, gave a rare interview Friday to his hometown radio station of WTOP in Washington, D.C. During the short chat, he shared his thoughts on the current state of the political media landscape and defended his site's conservative slant.
"The D.C. I'm seeing now is so vibrant. This is the center, this is the heartbeat of the nation, for good or bad," he said of the town where he grew up.
When one of the hosts brought up "gridlock" in the nation's capital, Drudge said, "Thank goodness for some gridlock. Can you imagine what would be happening if there was no gridlock?" He predicted that the upcoming midterm election could leave the division of power exactly as it is, proving that America "doesn't want things changed" and actually likes the gridlock.
Later, another host posited that the Drudge Report has a "partisan point of view," to which Drudge corrected her, saying his site is merely "partisan to news." He pushed back on the idea that opinion-driven media "lends nothing but vitriol and acrimony to an already heightened atmosphere."
"But the country is divided," he said. "All of these polls are always divided. Capitol Hill is divided. How can you say the airwaves or the website should not be divided? We are."
However, he insisted he simply goes "where the heat is," calling himself a "heat-seeking missile." And because he sometimes covers stories "before it's cool to do it," he said, he tends to "get in trouble."
Drudge went on to explain that his role has gotten harder as more and more media outlets have emerged — even though, presumably, it gives him more to link to. "It's a little psychotic, the news business right now, because everybody's doing everything," he said.
Listen to audio below, via WTOP:
[Photo via screengrab]
— —
>> Follow Matt Wilstein (@TheMattWilstein) on Twitter
Have a tip we should know? [email protected]