Matt Schlapp and Matt Dowd Get in Fierce Twitter Spat: 'You Have No Principles'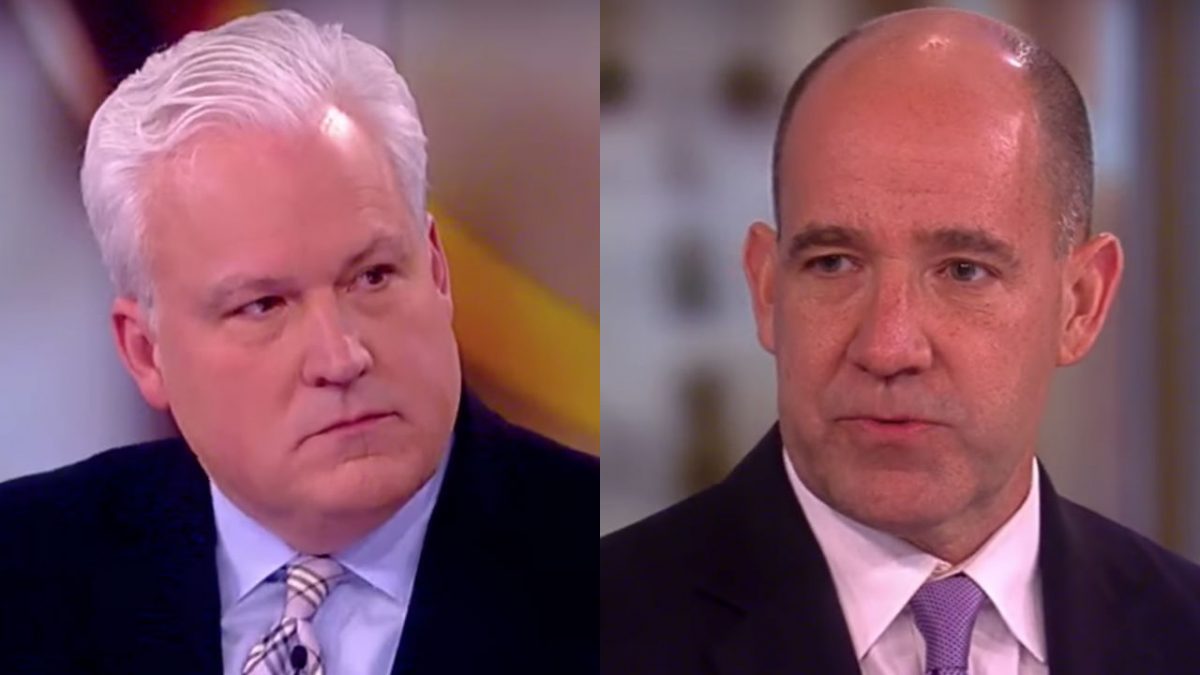 American Conservative Union chair Matt Schlapp and ABC News political analyst Matthew Dowd––both Bush 43 alumni––got in a bit of a personal feud on Twitter earlier tonight after Dowd called Schlapp out.
You may remember that controversy last week over one official's racial insult at CPAC aimed at former RNC Chair Michael Steele. Steele was incensed and confronted Schlapp directly, expressing bewilderment about how part of Schlapp's response to was to point out his criticisms of the GOP.
And with Schlapp still facing questions about it this week, Dowd weighed in by taking Steele's side:
I know both of these men fairly well. I would take Steele over Schlapp in a foxhole any day of the week. https://t.co/IMxQmVMiky

— Matthew Dowd (@matthewjdowd) March 2, 2018
Schlapp responded and things quickly got personal:
Matthew you've actually been taking Debbie Wasserman Shultz and Perez over all of your former gop friends. https://t.co/XD2ovAoVnX

— Matt Schlapp (@mschlapp) March 2, 2018
Matt, unlike you, i have been taking the truth and integrity over partisanship. You might try it.

— Matthew Dowd (@matthewjdowd) March 2, 2018
And by the way, the vast majority of my friends from the Bush world are aligned with me today. And you know that.

— Matthew Dowd (@matthewjdowd) March 2, 2018
Actually you just take the best offer that comes around Matthew. Whatever it takes I guess https://t.co/XTe53PmR18

— Matt Schlapp (@mschlapp) March 2, 2018
Wow. Matt, that is called projection. My loyalty is to the truth. Not to a party. Our country would be better off with leaders that did that. And by the way, you abandoned your principles to serve Trump. Sad.

— Matthew Dowd (@matthewjdowd) March 2, 2018
Matthew you have no principles. On the bush campaign you pushed us all to the right. Now you act like that's beneath you. https://t.co/lxCpsrCWRO

— Matt Schlapp (@mschlapp) March 2, 2018
Wow. You do not want to go here. This is so laughable. And why are you lying? Enough with you. As i said to you in person, you have lost your principles. And as i said on air on abc, you need to take truth serum.

— Matthew Dowd (@matthewjdowd) March 2, 2018
No lying Matthew. All truth. You helped elect and re elect a man you then turned on. Now you turn on all your former colleagues. #chameleon https://t.co/BhJo6R2AJq

— Matt Schlapp (@mschlapp) March 2, 2018
Yes i did. And i broke with him over the Iraq War and the divisions that grew in the country. It is called putting principle over party. Loyalty to the truth over power. And you are a minority part of the Bush crew who has chosen a different way.

— Matthew Dowd (@matthewjdowd) March 2, 2018
The two of them previously got combative on ABC's This Week back in January when Schlapp told Dowd, "Quit saying I'm a liar, Matt!"
[image via screengrab]
— —
Follow Josh Feldman on Twitter: @feldmaniac
Have a tip we should know? [email protected]
Josh Feldman - Senior Editor