Matthews: Jeb Bush In 2012? Palin Would "Drastically" Have To Change Her Image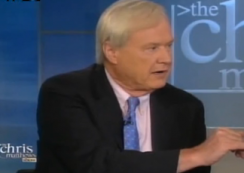 Here's a new entry into the GOP 2012 presidential field (and by new I mean so old he's new again): Jeb Bush. On his show this morning Chris Matthews pondering "who might beat Barack Obama in 2012?" This of course is the question plaguing the Republican Party. For all the attention and hoopla surrounding Sarah Palin no one is really convinced that even if she could snag the Republican nomination she has any shot at beating President Obama in the general.
Matthews points out that what Jeb — the Bush brother the family had originally intended for the White House — has going in his favor is executive experience, crisis experience, and he's popular with Hispanics (the amount of Republicans that can be said for is ever-diminishing), plus he has some credit with the Tea Partiers. Also, he apparently has not been "exactly denying" the speculation of late.
Norah O'Donnell thinks Bush would make a "formidable" candidate and that if he does get in the race Sarah Palin would have to change her image "drastically": "Two thirds of Americans still think that she is not qualified to be President of the United States, and she has not proven that she has the organizational skills to put a team together."
Howard Fineman notes that while the Bush brand may be damaged nationally they are still strong in the "royalist" Republican party."
John Heilemann points out that what Jeb has going for him is that he is a "serious" conservative who positive ideas: "He's not just a 'Party of No,' guy." We've got a "helluva story" if he does, concluded Matthews. Watch below.
Have a tip we should know? tips@mediaite.com