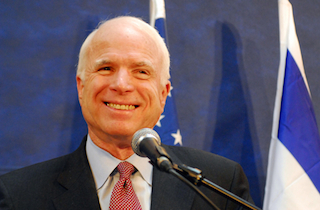 According to Sen. John McCain (R-AZ), Republicans are currently holding up Loretta Lynch's attorney general confirmation vote as "payback" for Senate Democrats invoking the so-called "nuclear option" when they controlled the Senate in 2013.
McCain, who in the past said Republicans should not vote for Lynch, made the comments to Politico on Monday.
"I told [Democrats]: 'You jam them through, it's going to be a long time before I approve of them,'" McCain said, referring to when then-Senate Majority Leader Harry Reid (D-NV) invoked the controversial nuclear option. "It's affected me as chairman of the Armed Services Committee."
Since becoming chairman when the Republicans took control of the Senate earlier this year, McCain has stalled ten civilian confirmation votes in retaliation — moving only to confirm Secretary of Defense Ashton Carter. According to Politico, there are currently 18 pending votes on the Senate floor (including Lynch), and more than 130 that haven't yet left various committees.
Sen. Chuck Schumer (D-NY) said the GOP's actions are "appalling": "I mean, how many times are they just going to throw logs on the process of government? I mean, even district court judges, for lord's sake." As Politico notes, though, Republicans have been active with legislation — including considering 100 amendments, passing a budget, and preparing to pass legislation related to trade and foreign policy.
In January, when it was reported that Republicans were considering abolishing filibusters for Supreme Court nominees, McCain said it would be "sheer hypocrisy" if the GOP expanded on the Democrats' 2013 nuclear option that they condemned at the time.
Senate Majority Leader Mitch McConnell (R-KY) is currently holding up Lynch's confirmation vote until an unrelated human trafficking bill passes. Other Republicans, however, including Rudy Giuliani, Sen. Lindsey Graham (R-SC) and likely presidential candidate Jeb Bush, have called on Senate Republicans to confirm Lynch.
Last week, President Barack Obama fiercely condemned the GOP for continuing to stall Lynch's nomination, calling it "embarrassing." In addition, Harry Reid said he will force a vote on Lynch if her confirmation is delayed any longer. Al Sharpton's National Action Network called for a hunger strike over the stalled confirmation.
Obama nominated Lynch back in November, and her delayed confirmation has been the subject of intense political back-and-forth. Senate Minority Whip Dick Durbin (D-IL) found himself in hot water over his suggestion that Republicans were putting Lynch, an African-American, in the "back of the bus."
[Image via ChameleonsEye / Shutterstock.com]
— —
>>Follow Andrew Desiderio (@forza_desiderio) on Twitter
Have a tip we should know? tips@mediaite.com