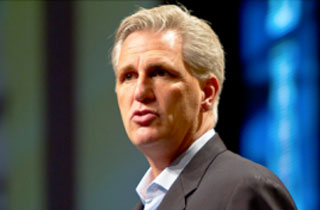 House Majority Leader Kevin McCarthy has a mandate for the potential Republican majority in Congress: "If we don't capture the House stronger, and the Senate, and prove we could govern, there won't be a Republican president in 2016."
McCarthy, the former Whip who recently inherited the mantle of GOP Leader from Eric Cantor, was followed by Politico for a feature on his new approach to that increasingly-difficult task of getting the Republican caucus to actually agree to do things.
With the possibility of the GOP gaining a majority in both houses — though McCarthy is quick to point out that the Democrats might still keep the Senate — having a unified front on passing legislation is key to winning the presidency. "From the very first day after the election, we should be laying out to the American public what the expectations are," he argued. "Why make two different agendas?"
Sadly, for certain political players (cough Ted Cruz cough), that means the end of dysfunctional strategic tactics, like brinksmanship, debt ceilings, and hyping up Congress and the country over fiscal cliffs:
"If we are fortunate to have both majorities, take away any cliff you can have hanging out there," McCarthy said, sitting in his SUV fiddling with an iPhone and Blackberry. "If you have a cliff, it takes attention away. Why put cliffs up that hold us back from doing bigger policy?"
RIP those pleasantly terror-inducing days of government shutdowns and furloughs.
[Politico]
[Image via Facebook/Kevin McCarthy]
—
>> Follow Tina Nguyen (@Tina_Nguyen) on Twitter
Have a tip we should know? tips@mediaite.com