Media Heavyweights Slam ABC For Silence on Roseanne Tweets: No Way Show 'Survives This, Right?'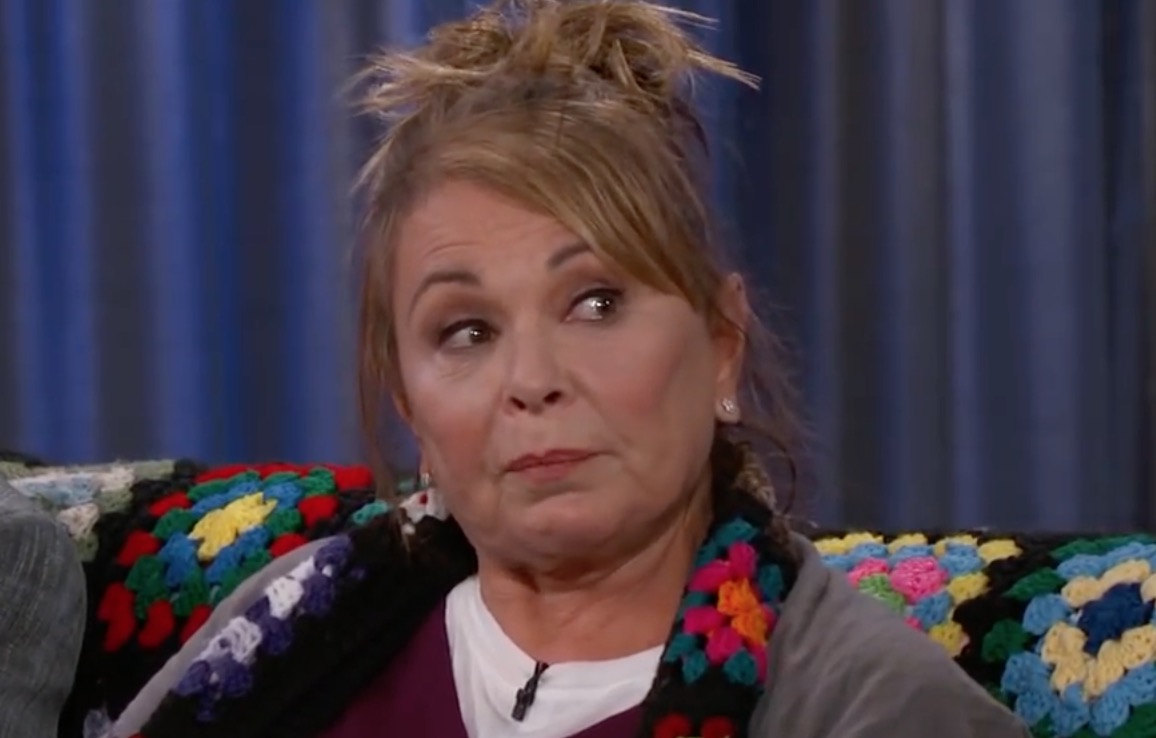 The Twitterverse is demanding answers from ABC in terms of what they're going to do with Roseanne Barr in light of her unhinged, racially-charged tweets from the last few hours.
The actress went on the warpath today when she tweeted and re-tweeted countless crazy statements regarding Chelsea Clinton, George Soros, the CIA, and so many other political figures she clearly doesn't like. The pièce de résistance, however, was when Roseanne said Valerie Jarrett would be the result if the Muslim Brotherhood & Planet of the Apes had a baby.
Roseanne initially defended her statements fiercely, but now she has deleted several of her most provocative tweets, apologized to Jarrett, and said she's stepping away from Twitter for a while. As for the political/media observers, many are asking ABC how they can possibly keep running Barr's show.
My reporting from March holds true today: ABC execs hold their noses when Roseanne tweets. They know it's problematic. They want her to focus on the show. But they say there's no controlling Roseanne…

— Brian Stelter (@brianstelter) May 29, 2018
There is no way @therealroseanne's show survives this, right? Even with the apology?

— Aaron Blake (@AaronBlake) May 29, 2018
Let Roseanne trend for all of her bigotry, racism and hatred.

Let @ABC see her trending for her bigotry, racism and hatred.

Let @Disney see her trending for her bigotry, racism and hatred.

Let her trend all day.

Trend, @therealroseanne, trend.

— Michael Skolnik (@MichaelSkolnik) May 29, 2018
if i may: perhaps a more important story with Roseanne isn't what she's saying, because this is what she's done for awhile….it's about ABC's silence on this.

— Sopan Deb (@SopanDeb) May 29, 2018
Roseanne 2.0 was never going to end well. https://t.co/iTrooD8lqm

— Charlie Sykes (@SykesCharlie) May 29, 2018
Hey @ABC, Roseanne Barr compared Valerie Jarrett to an ape. There is no apology she can make that justifies @ABC turning a blind eye to this bigotry by airing another second of her show.
Even in the Age of Trump, there are red lines that can never be crossed. This is one.

— Joe Scarborough (@JoeNBC) May 29, 2018
I try hard not to amplify garbage so I'll just say that @ABCNetwork needs to step up and do something about its ignorant, hate filled star Roseanne. What a disgraceful situation.

— MaryElizabeth Williams (@embeedub) May 29, 2018
What a brazenly racist and revolting thing to say. Shame on ABC is it chooses to remain silent and stand by it. https://t.co/1Vvn4jFkG8

— Susan Hennessey (@Susan_Hennessey) May 29, 2018
One important thing to remember in this and all future Roseanne-controversy stories is that ABC had about eight thousand ways of knowing this would happen, and still chose to proceed. Besides Valerie Jarrett, there was this today… pic.twitter.com/xCgoRUsEnT

— Mark Harris (@MarkHarrisNYC) May 29, 2018
It's this simple:@Disney and @ABCNetwork are profiting off the show and hoping we will let this naked, ugly, hard-core racism slide.

Roseanne Barr has NO PLACE in the public sphere. pic.twitter.com/5PxfZXTVAk

— Mikel Jollett (@Mikel_Jollett) May 29, 2018
This looks like a network forced apology. ABC is desperately trying to save its biggest show. https://t.co/0MCuFsNorE

— Lawrence O'Donnell (@Lawrence) May 29, 2018
Comedian and consulting producer Wanda Sykes has also announced that she's walking away from the show.
I will not be returning to @RoseanneOnABC.

— Wanda Sykes (@iamwandasykes) May 29, 2018
UPDATE – 1:40 p.m. EST: Barr's co-star Sara Gilbert got on Twitter to put some distance between herself from Barr's tweets.
Roseanne's recent comments about Valerie Jarrett, and so much more, are abhorrent and do not reflect the beliefs of our cast and crew or anyone associated with our show. I am disappointed in her actions to say the least.

— sara gilbert (@THEsaragilbert) May 29, 2018
This is incredibly sad and difficult for all of us, as we've created a show that we believe in, are proud of, and that audiences love— one that is separate and apart from the opinions and words of one cast member.

— sara gilbert (@THEsaragilbert) May 29, 2018
[Image via screengrab]
— —
>> Follow Ken Meyer (@KenMeyer91) on Twitter
Have a tip we should know? [email protected]