Mediaite Exclusive: CNN Cancelled Wilmore Appearance in Retaliation for WHC Dinner Jokes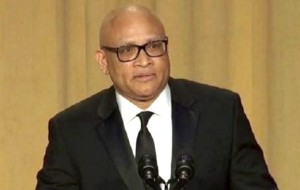 Anyone who watched Larry Wilmore's White Correspondents Dinner speech last month can understand why CNN might not have been thrilled with it. There were jokes questioning why Wolf Blitzer is still on the air, to a roasting of CNN's status as a news network at all, and in particular, "alleged journalist" Don Lemon got a special and biting shout out.
Nevertheless, Mediaite has learned, Lemon personally invited Wilmore to come on his evening show to discuss the speech, the "N-word" and politics. After all, Lemon was clearly good natured about the whole thing as is evidenced by his reaction and the photos he took with Wilmore after the event.
Mediaite learned that Wilmore was scheduled to appear on Lemon's show the evening of Wednesday, May 4 a few days after the speech. But that appearance was abruptly cancelled by a CNN producer shortly beforehand under the guise of needing to cover "politics" and to focus on the "Indiana primary" (which had ended more than 24 hours earlier.) Wilmore was never rescheduled.
Lets be clear, a Lemon-Wilmore interview would have been a big event for CNN that week in the wake of the WHCD speech and its aftermath. Wilmore would have been a "get" for CNN and Lemon. It's obviously absurd to claim that after booking him that they just could not find time to squeeze in the interview. It is also crystal clear to all involved that a very senior CNN executive or executives decided that they did not want Larry Wilmore on their air after the skewering he inflicted on the network.
We reached out to CNN for comment and will update accordingly.
Have a tip we should know? tips@mediaite.com