Mediaite Interviews Sally Kohn: Fox News' Community-Organizing, Yuengling-Loving Lefty Contributor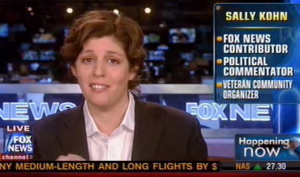 If you've watched Fox News recently, you have likely been treated to the stylings of Sally Kohn, a liberal contributor who seems to be having a rollicking good time going up against the network's stable of right-leaning opinioneers. Kohn, a native of Allentown, Pa., became a Fox News contributor late last year. Since then, she's popped up with regularity across the network, fighting the good fight for the left against some of the network's heaviest hitters, a group she considers to be especially… nice?
"Sean Hannity is just such a nice guy," Kohn says. "A total sweetheart. Every time I talk with Bill O'Reilly, I feel smarter for the conversation. He's thoughtful, I think he's intellectually honest. By the same token, Eric Bolling, we don't agree on a lot, but we poke fun at each other and he gives as good as he gets."
While she may not agree with the opinion programming, Kohn is quick to heap praise on FNC's "interesting and vibrant" news coverage, and will be the first to admit that it has a bit of a bad rap among the haters. "A lot of the people who criticize Fox News have never watched it," Kohn says. "Or maybe their main experience is clips that they've seen on The Daily Show. They don't have the full range of coverage of what Fox provides."
Besides being an unofficial spokesperson for the news merits of the network, Kohn appreciates the freedom she's given to express herself on the opinion side of things. "Clearly I was hired for my opinion," she explains. "And I can completely, unabashedly stand up for that opinion on Fox. A lot of the other networks, I found, I was often expected to sort of pull punches. I've never been told what to say, or quieted in any way." She excitedly adds, "I get to interrupt and go at it and say what I believe."
One of the fun things about Kohn is how randomly her background intersects with two of the country's most well-known politicians. Kohn is probably the world's second most well-known community organizer — behind President Barack Obama — and Rick Santorum represented her while he served as a Senator from Pennsylvania. She obviously has very different opinions on the two men, but Kohn, a gay liberal female, does manage to see some good in Santorum, a man at the opposite end of the spectrum from her on many issues. She praises his economic populism, saying that some of his language, "could have been written by the Occupy movement." She also notes that the two have one thing very much in common:
"We both share a penchant for sweater vests," Kohn says. "I love a sweater vest. And who'd have thunk it — lo and behold, Rick Santorum appears to be taking his fashion cues from lesbian style. So I mean, hey, at least he got something from us. That's about as bizarre as it gets for me."
As for her community organizing background, Kohn says that while she still gets a few jabs for the job, she credits it with being a constant, important part of America's fabric, dating back to the 1700s. "In the case of the founding fathers, they formed a nation," she explains. "And in the case of today, they create a tea party. It actually is the mechanism by which people exercise their power in our democracy."
Kohn also credits the community organizing for making her a stronger television presence, suggesting that would-be debaters have become a little fearful of what that job title really means. "I've spent 15 years talking to regular people, and communicating ideas in ways that can engage and activate ordinary Americans across the country," she says. "And all of a sudden, you realize that's not something to tease about, but to be wary of if you're going against me."
For as wide as her reach has gotten — being broadcast to millions of homes across the country, as well as writing for the FoxNews.com site — Kohn still has an attachment to her hometown, wistfully singing the praises of Allentown (although she does point out that the essence of the Billy Joel song of the same name is really about nearby Bethlehem, Pa.). She credits her hometown for giving her a sense of the struggles and suffering faced by smaller cities across the country. "You see how small businesses can't survive, how small businesses shut down," Kohn says. "It's just this cycle you see repeated in place after place after place." While Allentown is facing an uphill battle to climb back out of the depression, Kohn still sees the beauty of things being made in her home state. She is quick to single out Yuengling, a growing beer brand, as an example.
As for the next step? "I'm going to keep counting my blessings," Kohn says. "We happen to be in the middle of a critical political moment. I'm in a great position to be able to stand up for what I certainly believe the majority of Americans want and are hoping for in terms of a fair and just nation of shared prosperity, and to get to do that in the middle of what is clearly going to be a very important election year.
"What's next?" Kohn asks. "That feels like enough."
Have a tip we should know? tips@mediaite.com