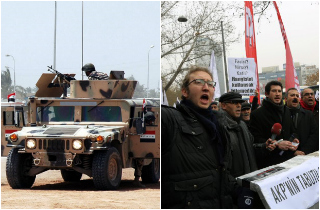 Every a.m., Mediaite publishes a primer of what the interweb machine is writing, talking, tweeting, and blogging about, so that you may fool friends and family into thinking you are a trove of information and insight. Today: the U.S. is sending Iraq weapons to fight al Qaeda along the Syrian border; protests increase over a corruption scandal in Turkey; Darrell Issa's long, sad 2013; and more.

"U.S. Sends Arms to Aid Iraq Fight With Extremists" (Michael Gordan and Eric Schmidt, New York Times)
Following urgent calls by Iraqi defense minister Nuri Kamal al-Maliki, the U.S. is sending Hellfire missiles and low-fy surveillance drones to Iraq to fight al Qaeda insurgents along the Syrian border. The move comes after a steady escalation in violence by the Islamic State in Iraq and Syria, the regional al Qaeda branch, culminated in the recent assassination of an Iraqi commando and several Christmas Day bombings in Baghdad—and contradicts previous Obama administration statements that Iraq was pacifying following the removal of U.S. troops.
At least one senior Iraqi official suggested deploying armed, U.S.-flown drones, an idea from which both the Iraqi and U.S. governments backed away as quickly as humanly possible.
"Turkish Corruption Scandal: Three Ministers Quit" (Reuters)
After massive protests in Istanbul this summer, Turkey is again beset by demonstrations as three cabinet officials resigned as part of a corruption probe. Prime Minister Recep Tayyip Erdogan quickly reshuffled his cabinet as the protests coalesced around calls for him to step down after eleven years in power. Erdogan has blamed the corruption investigation on an international conspiracy, and has threatened to expel foreign diplomats from the country.
"Tomorrow's Obamacare Controversy, Today" (Alex Seitz-Wald, National Journal)
This one's from a few days ago, but it may have gotten lost in holiday hullabaloo. Seitz-Wald games the next non-scandal to be instigated by House Oversight Committee Chair Darrell Issa's (R-CA) release of partial transcripts (first time ever!); as always, the full transcripts reveal something different entirely. Some (many) on Fox News will probably be yelling about this in the next couple of weeks, but you'll be smarter than them.
* RELATED: "Darrell Issa Has Hounded the Obama Administration All Year. He's Got Nothing." (Dave Weigel & Emma Roller / Slate)
"E.R. Costs for Mentally Ill Soar, and Hospitals Seek Better Way" (Julie Creswell, New York Times)
A fascinating piece on how states are looking to better treat mentally ill patients while simultaneously reducing costs. As funding cuts across the country have drastically decreased the number of psychiatric beds, states are experimenting with taking mentally ill patients to commercial psychiatric facilities rather than the emergency room, with the hope of cutting medical expenses and expediting treatment.
All manner of challenges present themselves, from a lingering stigma of psychiatric wards to state laws mandating patients be taken to the (much more costly) ER. The article also gets into the role of paramedics in more actively examining patients to better decide where to take them.
"The Affordable Care Act's Free-Market Economics" (Editorial Board, Washington Post)
WaPo's Ed Board goes after the GOP umbrage takers crying foul about Obamacare's narrow networks:
As with all of those canceled policies, this "outrage" isn't good evidence that the law is flawed, no matter what the president may have promised.

Republicans, many of whom claim to favor market approaches to expanding health-care coverage but oppose excluding patients with preexisting conditions, can't credibly balk at the natural results of competition organized under those very principles. No one can expect low premiums and near-unlimited service, particularly in a system designed to spread costs around so that the sick and the old can finally obtain decent health coverage from private insurers. That's not a mistake. It's economics.
[Image via AP]
——
>> Follow Evan McMurry (@evanmcmurry) on Twitter
Have a tip we should know? tips@mediaite.com