Mediaite's AJ Delgado Takes On Liberal Attacks Against Black Conservatives On Hannity's Radio Show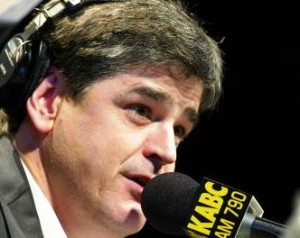 Mediaite's AJ Delgado joined Sean Hannity on his radio show today to talk about her recent column agreeing with him that black conservatives are constantly attacked and demonized by liberals.
Delgado said that this is an all-too-common occurrence with black and Latino conservatives, pointing out that in some cases "our livelihood is even threatened," posing a threat to their very freedom of speech. Hannity continued to pile on Chris Matthews for his recent rant against racism on the right.
RELATED: Sean Hannity Is Right: Black Conservatives Have 'No Freedom Of Speech'
Following some reflective talk about the birther controversy, Hannity asked Delgado if she thinks the inability of conservatives to reach out to minorities is due to a media-fueled "false caricature." Delgado agreed, blaming the left for trying to "bring down a black man" (namely, Dr. Ben Carson). She clashed with John Hlinko over whether the criticism of Carson was fair, and disputed the idea that he was linking homosexuality to bestiality when he appeared on Hannity's TV show.
Hannity blamed the media for the wildly unfair attacks on conservatives. Delgado said that minority conservatives anger liberals because they do not fit the narrative created by the liberal media, arguing that their goal is to discredit him and "take away his platform." She confronted Hlinko for his "condescending" argument that minorities are "less likely to have [voter] IDs," which is why such laws restricting it are discriminatory. She argued that voter ID laws are not meant to disenfranchise any particular group of voters, but meant to protect "voter integrity."
Listen to the full 27-minute discussion below:
—–
Follow Josh Feldman on Twitter: @feldmaniac
Have a tip we should know? tips@mediaite.com
Josh Feldman - Senior Editor