Mediaite's Dan Abrams Says Greta Van Susteren's Change of Heart Feels Like a 'Cop Out'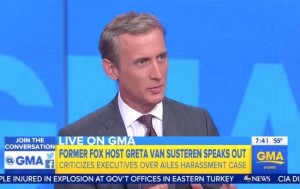 Greta Van Susteren last week became the latest high profile name to conclude her tenure with Fox News, abruptly putting an end to her fourteen year stint with the network. The move comes just months after former network anchor Gretchen Carlson first filed a sexual harassment lawsuit against Chairman and CEO Roger Ailes, who would eventually be ousted from his position as one of American media's most influential figures.
Shortly after Carlson's lawsuit became public, Van Susteren did numerous interviews defending Ailes. Her role as both a prominent lawyer and a woman speaking out in support of Ailes was a very helpful development for him.
For example, she said to The Daily Beast:
"I've been in his office a million times. I've had lunch, I've had Diet Cokes, I've been around him. He just doesn't do this stuff. . .You know how corporations gossip. If this were going on, I would have heard about it."
And even as more women started coming forward, Van Susteren stood her ground. But now that Van Susteren has left Fox after what appears to have been a contractual dispute in the wake of the scandal, she is expressing "regret" for her comments in a Facebook post late last week.
Mediaite founder Dan Abrams, who is also ABC News Chief Legal Analyst, weighed in this morning on GMA saying that despite his admiration for Van Susteren, it rings a "bit hollow," according to Abrams. "She had been defending Ailes," Abrams said of the network vet Van Susteren. "But most importantly — and people aren't talking about this — she also went after Gretchen Carlson in multiple interviews… calling her a 'disgruntled employee,' saying that these allegations are wrong."
She said "this one's wrong" in the Daily Beast interview, used the phrase disgruntled in an interview with People and added:
"Even if he weren't doing it to me, I wouldn't want to work in that environment. I sort of feel bad for Gretchen Carlson because it's sort of a weird thing that she's done. What she's alleging is something that is alien to me. I've never heard it."
To The Wrap in a separate interview, Van Susteren referred to Carlson as "a very unhappy employee that lost her job,"
Abrams added Monday, "I think a more full and complete apology is really needed to turn the tides here,"
In her Facebook post, Van Susteren primarily placed the blame on Fox's parent company:
I regret that Roger Ailes was not supervised by those in a public corporation who had the duty to supervise him. This included his seniors, the CFO's of both Fox News Channel and 21CF (and its predecessor NewsCorp), the Board of Directors and what I assume this public corporation had, outside auditors. Checks written that were suspicious should have been spotted.
To that, Abrams pointed out that it seemed difficult to believe that it was somehow news to her that Ailes was running Fox basically on his own:
"The bottom line is to suggest that she didn't know Roger Ailes had almost complete autonomy at Fox News feels like a cop out."
We asked Dan for further comment and he added: "I really like and respect Greta, and have for a long time, but I believe, like Geraldo did, based on everything we have learned including the huge settlement with Carlson and others, a more complete and unequivocal apology to Carlson is probably in order."
Watch above via Good Morning America on ABC.
—
[image via screengrab]
Have a tip we should know? tips@mediaite.com