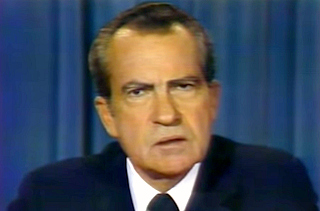 Friday marks the fortieth anniversary* of the resignation of Richard Milhous Nixon — the only president to ever resign the office, and, in the words of Hunter S. Thompson, "democracy's greatest mutant."
Nixon rose from modest means in Whittier, California, participated in Communist witch hunts in the House of Representatives, served as Vice President, and nearly become president himself only to see his political career declared dead upon his loss to John F Kennedy in 1960. When he attained the presidency in 1968 Nixon could have quite legitimately argued that he was the embodiment of the American dream, and that he had overthrown Fitzgerald's wisdom that America precludes second acts.
In 1972 Nixon was reelected to the presidency with the majority vote in 49 states; two years later he resigned in disgrace following the Watergate scandal. This dichotomy of triumph and ignominy defined his entire career. "Perhaps the best-prepared person ever to assume the Presidency," Nixon also permanently damaged the office by merging its operations with the extremities of his mercurial and debilitatingly paranoid personality. He called his resignation the lowest moment of his life, but in many ways Nixon's last exit encapsulated all the great mutations that had led up to it.
Nixon's Resignation Speech
Alvin Snyder, Nixon's television handler, recounts the somber set-up for the televised address. Ironically, Nixon was departing via the medium that, at least according to political lore, had helped cost him the presidency in 1960, when he appeared sweaty and uncomfortable next to the more camera-ready Kennedy. Snyder's description will be familiar to anyone knowledgeable of Nixon: alternately avuncular and contentious, snapping at aides one minute and joking with them the next, professional in mic checks, as if this were just another speech, before throwing the photographers out of the room while bellowing, "You got your picture!" The contradictions of Nixon's powerful vulnerability were as pronounced at this moment as ever.
"Because of the nature of this event," Press Secretary Ron Ziegler asked as he led he cameramen to the room, "please try to be as kind to the President as you can with your cameras."
An alternate account has Nixon almost relieved by ending his beleaguered presidency — in fact, his beleaguered political life: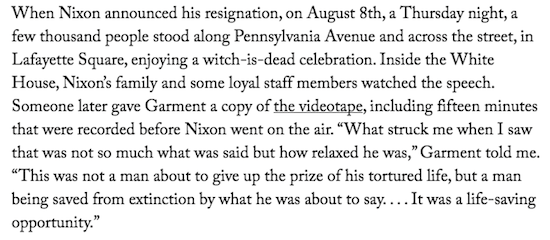 Watch Nixon's resignation speech below:
And the lead-up to the speech. Note how remarkably casual he is as he rehearses the actual lines of the resignation:
Nixon's Letter of Resignation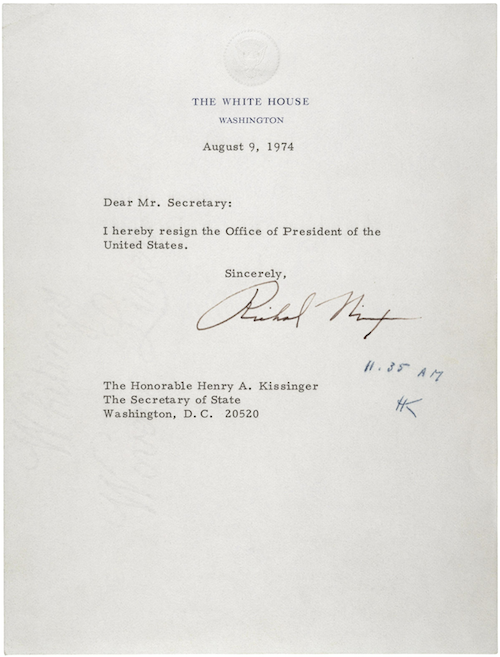 Nixon submitted his letter of resignation the next morning. Why is it addressed to Henry Kissinger? Under U.S. law, resignation of the President or Vice President much be submitted to the Secretary of State.
Nixon's Tapes
In commemoration of the resignation, the Nixon Library released a new batch of White House recordings, which you can listen to here. Douglas Brinkley at Vanity Fair has been sifting through the archived material and releasing novelty bits, such as Nixon's impromptu rants on homosexuality or his fascination with panda breeding.
Nixon's Resignation at the Washington Post
Bob Woodward and Carl Bernstein brought Nixon down, but Washington Post publisher Katherine Graham enforced a strict "no gloating" policy as the staff watched his address, making for a morose environment graced by sandwiches so lackluster their quality is still recalled four decades later. This drag was interrupted by Kennedy brother-in-law Sargent Shriver, who, ignorant of the rule against gloating, burst out of the elevator like it was someone's birthday:

Read Woodward and Bernstein's initial article on the break-in, from July of 1972, here, and the Post's article on Nixon's resignation more than two years later here.
As far as historical synergies go, you could do worse than the movie Bernstein saw while evading a White House subpoena:
Woodward and Bernstein Discuss the Resignation
By the by, in his review of former Nixon administration counsel John Dean's new book about Watergate, Woodward spots this classic bit of Nixonian backtracking from amongst the tapes:

Nixon Waves Goodbye
The pilot who flew the chopper said he liked Nixon and teared up when the now-former president bid him farewell. "Stop that," he recalls Nixon joking. "I've got to walk from here to Air Force One with about 10,000 people looking at me."
The chopper has been fully restored and is on display at the Nixon Museum in California.
The Papers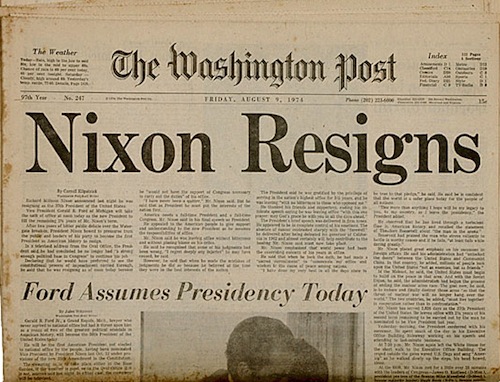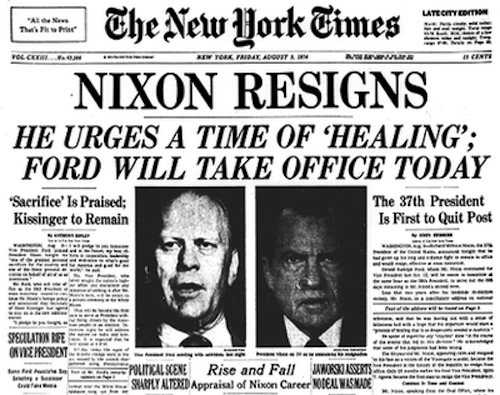 And the Post, as always, keeping it classy: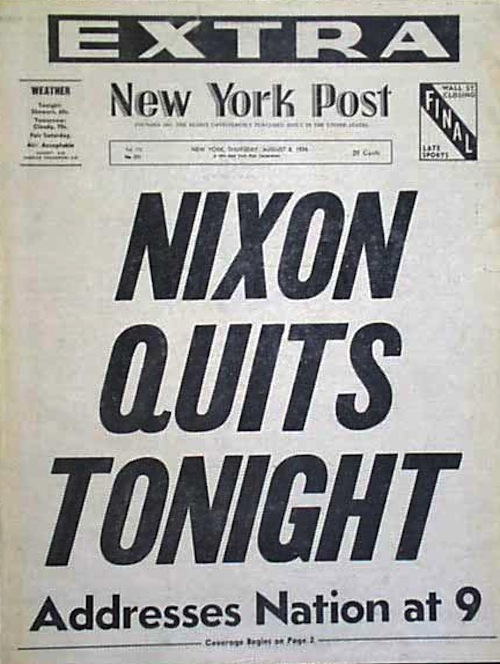 The Pardon
Conventional wisdom has it that Gerald Ford's pardon of Nixon helped a scandal-sodden nation put the Watergate debacle behind it. In his new book Invisible Bridge, which covers this exact time period, Rick Perlstein suggests an alternate reading — that the pardon seemed to cement the corruption and attending cynicism of Watergate into the political system by letting Tricky Dick off the hook. From Frank Rich's review of the book:
Once Nixon did make way for Ford, the bipartisan rapture in Washington was off the charts. Of 81 articles in The Times on the day Ford was sworn in, Perlstein writes, two-thirds "resounded with the very same theme: The resignation proved no American was above the law, that the system worked, that the nation was united and at peace with itself." The new president was hailed universally as "dependable, solid, uncontroversial — just like the cars Ford built." But as Perlstein adds, "wasn't it also the case to partisans of Chevrolets, Fords were controversial indeed? And that Americans, being Americans, had always found things to passionately disagree about, to the point of violent rage — and that when American elites reached most insistently for talismans of national unity, it usually portended further civil wars?" So it was with the euphoric celebration of national unity that greeted Ford's swearing in: The moment he pardoned Nixon a month later, the country's civil war resumed just where it had left off. Even the false honeymoon of reconciliation that greeted the election of America's first black president lasted a little longer than that.
Nixon and the Press
Writing at the Atlantic, Jon Marshall argues that one of Nixon's most toxic legacies was a permanent mistrust between the White House and the press corps, one very much carried on by George W Bush and President Barack Obama:
Once his comeback culminated in his being elected president, Nixon read a summary of each morning's news and then directed his staff how to respond, noting in the margins which reporters he liked and disliked. When Stuart Loory of the Los Angeles Times wrote about how much Nixon's vacation home cost taxpayers, the president angrily told his staff to ban Loory from the White House.
Thus do the individual flaws of a single president — in Nixon's case paranoia, status anxiety, vindictiveness — seep into the essence of the office.
This awareness of the impact of "future presidencies" was spotted, and mercilessly mocked, in real time by Garry Trudeau:

Those who stick to the decline and fall narrative of political media — in which Woodward and Bernstein represent some bygone age of hard-nosed investigative journalism that has dissipated into a compliant, access-hungry press corps — ought to take a gander at what Robert Redford had to say about the press when Woodward and Bernstein were just metro beat writers with a scoop:
Robert Redford, whose production company Wildwood Enterprises produced the film, was in the process of doing a whistle-stop promotional tour by train for The Candidate when he first heard about the Watergate break-in from members of the political and entertainment press who accompanied him on his trip.

"I asked them what had happened with that story, which had died out right away, and there was a kind of cynical glancing between some of the journalists," Redford recalls. "The inclination was that [the story] was kind of deeper and maybe closer to home, closer to the White House.

"So I asked [the reporters] what they were going to do about it, and then I got a lesson in politics: They said, 'Look, Nixon is going to win in a landslide, McGovern is going to self-destruct, and nobody wants to be on the wrong side of this guy when he gets into office because he's got a switchblade mentality. Secondly, the only thing the public's going to be interested in is whether Hank Aaron breaks Babe Ruth's home run record. Besides, it's dirty tricks, and both parties do it to each other. It's never gonna come out.'"
Since then, Bernstein has cautioned against lessons that have been taken from the story, especially the idea that journalism must be crusading in order to be valuable:
"In terms of the wrong lessons being drawn," reflects Bernstein, "too many reporters saw their function as prosecutorial when in fact that had never been either our intent or our methodology. What [Bob Woodward and I] came to realize, perhaps more consciously than we otherwise would have – though I think unconsciously we always understood this – was that good reporting is really the best obtainable version of the truth. That's a phrase Bob and I used a lot. And to the extent that that became the lesson of the Watergate reporting, it was a terrific thing. Unfortunately, I'm not sure that that's the lasting impression that has been formed."
Reminder: Richard Nixon Could Have Run Baseball
Nixon was the runner-up when Marvin Miller was named of the Major League Baseball Players Association:
In 1966, when he was elected to run the players' union, Miller was in some ways too big for the job. An economist and leader in the United Steelworkers union, he had met and directly negotiated with American presidents and been offered both a visiting professorship at Harvard and work directing a long-term study for the Carnegie Endowment for International Peace. Baseball, by contrast, was a backwater. The players were so naïve that he had to explain to them at an early meeting that they were being screwed over because their pensions didn't have any mechanisms to adjust for inflation. He also warned his soon-to-be constituency that Richard Nixon, a rival for the job, probably had political ambitions beyond heading their union. (Later, he was able to gloat. "I was glad to see he had managed to find work after losing out on the Players Association job," he wrote of meeting President Nixon in 1969.)
Miller went on to invent free agency, and Nixon went on to invent the southern strategy. Who wants a do-over?
* To be more specific: Friday is the anniversary of the announcement; he submitted the letter the next day.
[Image via screengrab]
——
>> Follow Evan McMurry (@evanmcmurry) on Twitter
Have a tip we should know? tips@mediaite.com