Mediaite's Tommy Christopher Live Tweets Major Heart Attack, Thankfully Is Okay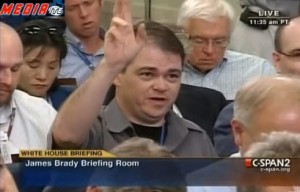 First the good news: Mediaite's White House and Political Reporter Tommy Christopher is in stable condition after recovering from emergency surgery last night, brought about from a major heart attack he suffered yesterday around 5:00 PM. In Tommy's inimitable style, he reported on his heart attack via his own Twitter feed, while being rushed to a New Jersey hospital in the back of an ambulance, writing "I gotta be me. Livetweeting my heart attack. Beat that!"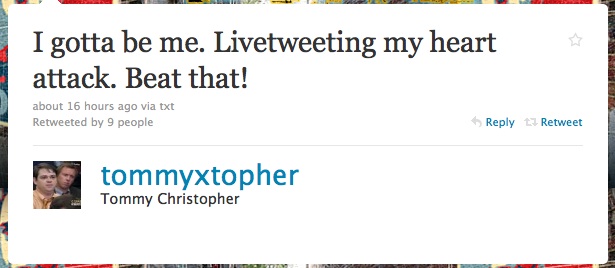 The outpouring of Twitter love and support that followed revealed just how much Tommy's friends and fans truly care about him, and while there is more surgery to come, the worst appears to be behind him. White House press corp peers Jake Tapper and Ed Henry both expressed their concern and support, as did a myriad of other online friends and cohorts of Christopher like Meghan McCain and Hot Air's Ed Morrissey.
Already some are wondering if Tommy's live tweeting of his own heart attack is a Social Media first. Writing for WiredUpdate, Joe Brooks reports:
White House corespondent Tommy Christopher with Mediaite.com may have made Social Network history as being the first person ever to update his or her Twitter page while having a heart attack. This claim is unverified and likely inaccurate, but nonetheless, it takes a courageous reporter to inform the public even in personal trying times.

Approximately at 6pm on Sunday afternoon Christopher wrote, "I gotta be me. Livetweeting my heart attack. Beat that!" Presumably a few minutes later the paramedics arrived to tell Christopher he will be stable after his crisis.

An hour later Christopher joked about needing to own a cardiac cat, referencing a viral video in which a cat is trying to revive his dead feline friend. He also updated his followers about the pain he was feeling, "even after the morphine."
It seems that the heart attack Tommy suffered was in fact, very serious, and if not for early intervention, it would likely have been fatal. He has by-pass surgery scheduled for later in the week. When reached by phone, Tommy first lamented that he would be missing a bunch of great news events in the coming week, but was quickly given a new assignment by his editor: a thorough investigation into convalescing and repairing from a major heart attack. Christopher did insist that Mediaite report on the live-tweeting of his heart attack, adding "dude, just make it funny." (Editors note – its hard to make fun of something as serious as, well.. a heart attack.)
Side note, if there is anything one can do to support Tommy, please follow him on Twitter.
Have a tip we should know? tips@mediaite.com