Megyn Kelly Reveals Roger Ailes' Advances on GMA: 'He Tried to Kiss Me Three Times'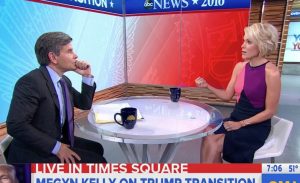 Megyn Kelly, host of The Kelly File on Fox News, spoke exclusively with George Stephanopoulos on Good Morning America about her alleged harassment at the hands of former CEO and Chairman Roger Ailes.
"He tried to kiss me three times… and when I rejected that, he asked me when my contract was up," Kelly recounted to Stephanopoulos about her first year working as a reporter at the network.
"I wrestled with what to do," Kelly continued Tuesday morning. "[Ailes] and I went on to have nine years of a healthy, working relationship."
Megyn Kelly noted that she thought Ailes was simply interested in, "having an extramarital affair," at the time, noting how she was able to continue her work at the network as a rising star for years to come. Although she notified an advisor at the network about the incident, Kelly was reassured by the powers-at-be that Ailes was "a good man."
Kelly's new book "Settle For More" is available today.
Yesterday, Kelly told Dr. Phil that when she was beginning her career at Fox as a reporter, the longtime CEO and Chairman made "grossly inappropriate" comments to her. She continued, "This was real. He did do this. I was far from the only one."
In response, Susan Estrich issued a statement on Roger Ailes' behalf, saying, "I categorically deny the allegations Megyn Kelly makes about me. I worked tirelessly to promote and advance her career, as Megyn herself admitted to Charlie Rose. Watch that interview and then decide for yourself. My attorneys have restricted me from commenting further — so suffice it to say that no good deed goes unpunished."
She continued on Tuesday morning, saying, "I found it hard to believe."
Watch above via GMA.
Have a tip we should know? tips@mediaite.com