Metaphor? Woman Who Was "Exhausted Of Defending" President Obama Has Been Laid Off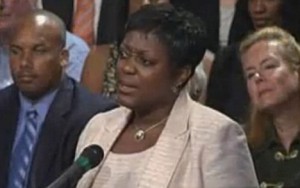 Two months ago, a woman from Maryland became a media darling when she stood up at a town hall event and told President Obama, in no uncertain terms, that while she was once an unquestioning supporter, she had become "exhausted of defending you, defending your administration, defending the man for change I voted for, and deeply disappointed with where we are right now." In a twisted turn of events, this morning CNBC reported that that woman—Velma Hart—had been let go from her job.
Hart worked as the chief financial officer of AmVets, a veterans service nonprofit. As Hart told CNBC yesterday, "They called me in on a Friday afternoon and said they had made a decision…we should make that cut."
For what it's worth, Hart had known for months that getting laid off was a distinct possibility. As CNBC's John Harwood writes:
Even when she addressed Obama in a September 20 CNBC town hall meeting on the economy, Ms. Hart knew that the recent recession had put her job in danger through its dampening effect on donations, memberships and sponsorships at AmVets. She had hoped to remain on the job to help AmVets weather the financial storm, but instead became one of its casualties.

A spokesman for AmVets confirmed that Ms. Hart's layoff was "an economic decision that had nothing to do with her job performance." A White House spokeswoman had no comment.
Hart also tells Harwood that she's trying to be optimistic about her future: "I want to focus on the positive," she says, "and assume that somehow things will work out, that there's an opportunity out there with Velma's name on it that's right around the corner." At least she's got that Medal of Reasonableness to keep her warm at night, right?
Watch her question of President Obama via CNBC below:

Read more about Hart at CNBC, or watch her interview on that channel today at 1:30pm EST.
Have a tip we should know? tips@mediaite.com