According to an autopsy, 18-year-old Michael Brown was shot at least six times, including two times in the head.
Brown was shot and killed by Ferguson, Mo., police officer Darren Wilson last Saturday, setting off a wave of protests, with occasional looting and clashes with police. The New York Times obtained the autopsy results performed by Dr. Michael Baden, of New York City, and Prof. Shawn Parcells, a Kansas-based pathologist assistance.
Some key details from the Times:
One of the bullets entered the top of Mr. Brown's skull, suggesting his head was bent forward when it struck him and caused a fatal injury, according to Dr. Michael M. Baden, the former chief medical examiner for the City of New York, who flew to Missouri on Sunday at the family's request to conduct the separate autopsy. It was likely the last of bullets to hit him, he said.

Mr. Brown, 18, was also shot four times in the right arm, he said, adding that all the bullets were fired into his front.

The bullets did not appear to have been shot from very close range because no gunpowder was present on his body. However, that determination could change if it turns out that there is gunshot residue on Mr. Brown's clothing, to which Dr. Baden did not have access.
And more gruesome details:
Dr. Baden said that while Mr. Brown was shot at least six times, only three bullets were recovered from his body. But he has not yet seen the X-rays showing where the bullets were found, which would clarify the autopsy results. Nor has he had access to witness and police statements.

Dr. Baden provided a diagram of the entry wounds, and noted that the six shots produced numerous wounds. Some of the bullets entered and exited several times, including one that left at least five different wounds.
Several witnesses claimed Brown was shot while fleeing the officer with his hands up in the air. The official police line, however, claims Brown was shot during some sort of violent struggle. The autopsy results will only serve to further complicate an already murky situation.
The below chart was provided to the Times as well: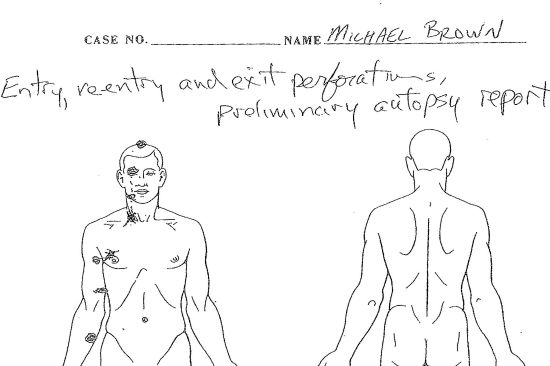 Review the full results here at the Times.
Read more of our coverage of the ongoing Ferguson situation here.
Have a tip we should know? tips@mediaite.com