Michael Flynn Jr. Attacks Washington Post, Questions If They Should 'Continue to Operate'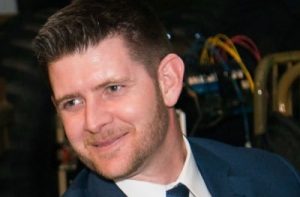 Michael Flynn Jr., the son of incoming Donald Trump national security advisor Gen. Michael Flynn, attacked The Washington Post Wednesday for publishing what he called "fake news" and questioned whether the paper should continue to operate.
Another article by the failing FAKE news that is the Compost..should they continue to operate when they continue to get everything so wrong? https://t.co/m4YoNNnPJE

— Michael G Flynn?? (@mflynnJR) December 14, 2016
Flynn's attack on the Post for "fake news" is ironic given that he himself was recently removed from the Trump transition team for spreading the fake "Pizzagate" conspiracy, even after it led to an armed attack on a D.C. pizzeria. It's also a bizarre attack given that Flynn's tweet doesn't even link to a Post "article," just government documents on his father's wrongdoing that were republished by the paper.
The phrasing of Flynn's tweet worried many journalists on social media, who interpreted it as a veiled threat given his likely role in the incoming administration.
"Should they continue to operate?"

My God. https://t.co/y13xdmfwnx

— Jon Ralston (@RalstonReports) December 14, 2016
Advisor to Pres-Elect, son of a General sworn to defend the Constitution and 1A,

Calling for suppression of the press https://t.co/wazygm7PNw

— Stonekettle (@Stonekettle) December 14, 2016
Flynn's son seemingly suggesting Washington Post should not be allowed to publish facts he doesn't like. https://t.co/P2ei4ppVwp

— Greg Pinelo (@gregpinelo) December 14, 2016
From son of National Security Adviser-designate, suggesting @washingtonpost should be shut down, same day Trump meets with owner Jeff Bezos https://t.co/SlX3vDSO1D

— Jonathan Weisman (@jonathanweisman) December 14, 2016
[Image via Twitter]
—
>>Follow Alex Griswold (@HashtagGriswold) on Twitter
Have a tip we should know? tips@mediaite.com