Michael Flynn Jr. Reinstates Twitter Account to Call Out 'Disinformation Campaign' Against His Ousted Father
Michael Flynn Jr. Reinstates Twitter Account to Call Out 'Disinformation Campaign' Against His Father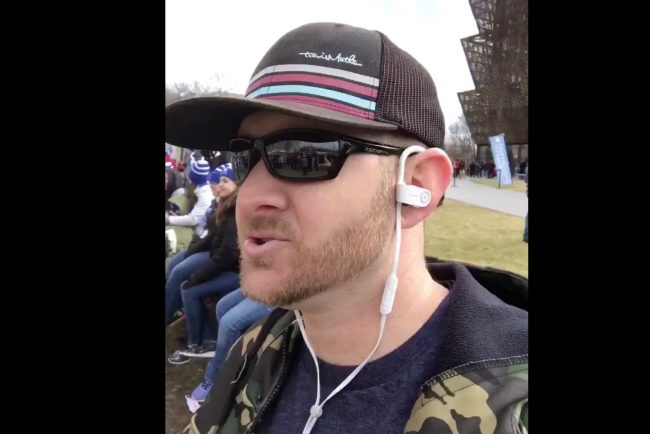 Well, that didn't take long.
Just a few weeks after deleting his Twitter account, it would appear that Michael Flynn Jr. — the embattled, conspiratorial son of former National Security Advisor General Michael Flynn — has rejoined the ranks of the social media world to call out the forces that resulted in his father's resignation late last night.
General Flynn, who was tapped by President Donald Trump to serve as National Security Advisor after being one of the campaign's most supportive surrogates early on, resigned last night after pressure mounting from phone calls he made to a Russian ambassador on the day the Obama administration issued sanctions against the Kremlin. Flynn then misled — or perhaps outright lied — to the White House about the content of those calls, which led to then-VP-elect Mike Pence going on Face The Nation and arguing on behalf of Flynn's innocence.
But Flynn Jr., who has a documented history of dabbling in the realms of wild conspiracy theories, took to Twitter Tuesday morning to champion the move as a win for the "disinformation campaign" against his father.
The disinformation campaign against my father won #AmericaFirst #USA #Flynn #FlynnResignation

— Michael Flynn Jr (@mflynnJR) February 14, 2017
"The disinformation campaign against my father won," Flynn Jr. tweeted. He previously deleted his Twitter account altogether in late January after appearing to admit that Trump's executive action on immigration was, in fact, a "Muslim Ban."
Flynn Jr. previously worked himself into hot water by perpetuating the whole #PizzaGate fiasco, alleging that a pizza shop in the DC area was harboring a child sex ring operated through the Clinton orbit. Flynn Jr. then created trouble for Mike Pence, who was grilled by CNN's Jake Tapper eight times in a stirring interview to confirm whether or not Flynn Jr. had security clearance and a transition team email address while serving as an aide to his father.
UPDATED: 9:11 a.m. EST: Well, now THAT didn't last long.
Minutes after posting his tweet, Flynn Jr. and his itchy finger deleted his tweet AGAIN, but thankfully we have the power of screenshots to provide you his original hot take about the "disinformation campaign."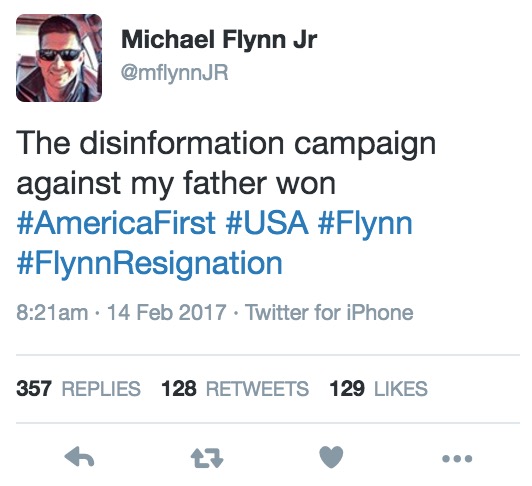 [image via Michael Flynn Jr.'s Twitter]
Have a tip we should know? tips@mediaite.com