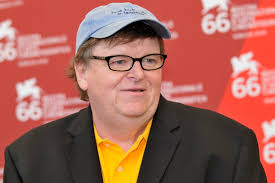 Political filmmaker Michael Moore recruited his Facebook followers to report Donald Trump for hate speech, writing a detailed post Wednesday describing the process to "file your complaint" against the presidential candidate.
"Facebook prohibits all its users from using hate speech on its site ('You will not post content that is hate speech')." Moore wrote. "I'm joining others today in filing a complaint with Facebook that Trump's Facebook page is using hate speech to promote racism and bigotry."
Moore directed his followers to visit Trump's page and report the business mogul, alerting the website that "it shouldn't be on FB" because it is "hate speech."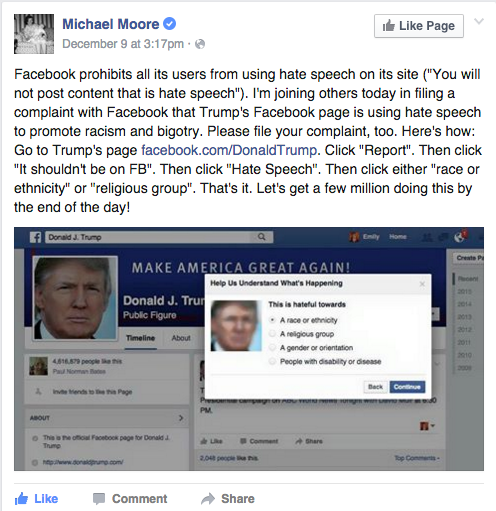 "Then click either 'race or ethnicity' or 'religious group,'" The Fahrenheit 9/11 director offered, referring to Facebook's survey that asks users to identify who the speech is hateful towards. The other two options provided by the survey are "a gender or orientation" or "people with disability or disease."
"Let's get a few million doing this by the end of the day!" Moore added.
It's no secret that Moore is critical of the Republican presidential candidate; in September he declared that Trump "is batsh*t crazy" and his campaign "is not performance art." And on Tuesday, the liberal activist posted a photo to Twitter, informing his followers that he was singing "Trump themed" Christmas carols outside the National Republican Center:
Just sang Christmas Carols outside the National Republican Center in D.C. All Donald Trump themed songs of course. pic.twitter.com/FjFJDCgH1W

— Michael Moore (@MMFlint) December 9, 2015
[Image via Wikimedia Commons]
—
>> Follow Elizabeth Preza on Twitter (@lizacisms)
Have a tip we should know? tips@mediaite.com