Michael Moore Implores People to Protest at Their Closest Int'l Airport Against 'This Bigot'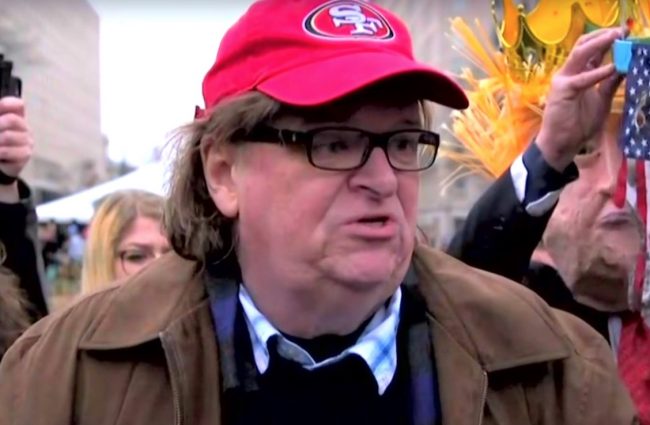 Michael Moore's message today could not be more clear: "[W]e need a massive showing right now."
His tweets are in direct response to Friday afternoon's executive order by President Donald Trump, signed at 4:42 p.m. EST, that, in part, blocked entry into the United States for citizens from seven Muslim-majority countries: Iran, Iraq, Sudan, Syria, Somalia, Yemen, and Libya.
The shockwaves in response have been felt nation-wide today as a result, with thousands of Americans protesting at airports with New York City's JFK front and center of the unfolding drama. Moore is pleading with American citizens to congregate and protest at their nearest airport in direct opposition of — in his words — "this bigot."
If you're not in NYC, head out to the International arrivals at the nearest airport. If u live in a small town, go to where u protest.

— Michael Moore (@MMFlint) January 28, 2017
I'm serious- we need a massive showing right now. Many orgs r joining the call! Let the whole world see we are NOT represented by this bigot

— Michael Moore (@MMFlint) January 28, 2017
Trump wants us at war w/ the entire Muslim world. Who wants to die for Donald J. Trump? Do YOU want 2 die 4 Trump? Everyone to JFK demo now!

— Michael Moore (@MMFlint) January 28, 2017
Moore is actively delivering news updates in real time today as well, indicating to his 3.79 millions Twitter followers to take action.
Everybody in NYC area– head to JFK Terminal 4 NOW! Big anti-Trump protest forming out of nowhere! Ppl mobilizing against Trump's Muslim ban

— Michael Moore (@MMFlint) January 28, 2017
President Trump's executive order Friday also suspended Syrian refugees from entering the United States indefinitely, and suspended all other refugees from entering the country for 120 days.
Green card holders from those seven Muslim-majority countries are also prohibited from entering, according to the Department of Homeland Security. Earlier today Hameed Khalid Darweesh, an interpreter who worked for the U.S. government in Iraq, was finally released after nearly a full day of being detained; when his lawyer asked a border agent about the next steps necessary to secure Darweesh's release, he was reportedly told, "Call Mr. Trump."
It appears as if the social media activism by Moore is paying off in the way the liberal filmmaker would hope.
Watch thousands jamming JFK Airport right now on my Facebook Live – https://t.co/FzxOyljoK5 WE ARE THE MAJORITY.

— Michael Moore (@MMFlint) January 28, 2017
Holy crap! Protest growing! Are they going to have to shut down JFK until they release the Muslims they are detaining inside???!!!

— Michael Moore (@MMFlint) January 28, 2017
Thousands keep pouring into JFK Terminal 4! An amazing sight! No planning, no organizing – just me and others saying "get to JFK now!"

— Michael Moore (@MMFlint) January 28, 2017
UPDATE: 9:34 p.m. EST: A New York federal judge has issued an emergency stay applicable to those detainees who are already here in the United States. While the ACLU champions the move as a widespread victory in the case, legal experts have been quick to point out that the stay is temporary and further action from the President can be taken.
Mass celebration breaking out at JFK pic.twitter.com/M64PpJPf1c

— eve peyser (@evepeyser) January 29, 2017
Have a tip we should know? tips@mediaite.com