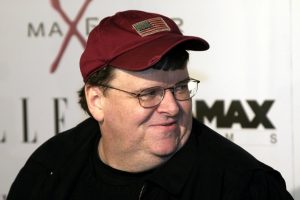 Oscar-winning documentarian-provocateur Michael Moore said in an interview with Rolling Stone published Friday that anyone choosing to vote for Trump was effectively a "legal terrorist" because they were participating in an act that would "blow up the system."
He said:
Legally, you have a right to vote on November 8th. You can go in there and even though you're not necessarily in favor of Trump and you don't like him that much and you know he's a little crazy, you also know he's going to blow up the system. The system that took your job and house away from you. You get to get back at the system now and blow it up and this is the only day you can do it legally. He's told everybody that's what he's going to do. He's the outsider who is going to ride into town and blow up the old way.  So you, as a voter, get to participate in the detonation. He's going to get a lot of votes from people who actually just want to sit back and watch the thing blow up.
The interview coincides with the surprise release of Moore's film Michael Moore in TrumpLand.
Since the convention Moore has been continually scolding Democrats for their complacency, frequently insisting that Trump can likely still win the election despite trailing in virtually every national and swing state poll. "I started to feel like those people [Democrats already celebrating] were contributing to Trump's potential election," he said.
The new film is intended to get people excited about voting for Clinton, not merely against Trump. "One thing that I think we've learned in this post-9/11 world is that politicians manipulating the public with fear is never a good thing. Even if it's being done on our side, I don't think it's a good thing," he said.
You can read the complete interview here.
[image: tinseltown, via shutterstock]
Have a tip we should know? tips@mediaite.com