Michael Reagan Suggests His Dad 'Was More Of A Friend To Blacks' Than Obama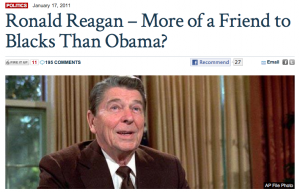 Man, there have been all sorts of great quotes coming out of the Reagan clan recently. First, Ron Reagan releases a new book that claims that his father may have been suffering from Alzheimers while in office. His brother Michael then shot back, calling Ron an "embarrassment" to the family. Now Michael is further trying to protect his dad's name by writing an article that claims Ronald Reagan was better to blacks than Barack Obama. It's a fun argument to make…on days that aren't Martin Luther King, Jr. Day.
There's nothing really offensive in the article itself. In fact, it's a rather nice ode to the man's father. Sure, Reagan brings up the dubious claim that his father was the real first black president only to shoot it down as something that would "diminish the justifiable pride African-Americans take in having a president who is genetically and culturally black" (Reagan realizes he doesn't exactly have the leeway a Toni Morrison would in this situation), but it's still odd to have the idea even floated today. And it's even stranger to click on Fox Nation and see a giant picture of Ronald Reagan and the headline "Ronald Reagan – More of a Friend to Blacks Than Obama?" as the top story. As a Reddit user said, it's just not that "classy."
Martin Luther King, Jr. Day should be about celebrating civil rights and that means we shouldn't just recognize the oppressed but also those in the majority who stood up against the norm to fight for what's right. However, the tone of the headline and the prominence of the image makes Reagan's post seem less like that and more like "Gee, wasn't my dad awesome?"
Michael Reagan wrote a nice piece, but on a day when we should all be recognizing the actual miracle that is a country electing a black man as its leader less than a lifetime after he would have been forced to live separately, perhaps it's not a good choice for top story.
Have a tip we should know? tips@mediaite.com