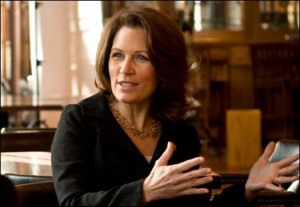 The Daily Beast's Michelle Goldberg offers a fascinating look into GOP presidential hopeful Michele Bachmann's religious beliefs, particularly how they play into her views on homosexuality in general and same-sex marriage in particular. Bachmann has experienced a bump in support in the wake of her participation in this week's Republican debates, confirming her place as a serious contender for the GOP nomination. While Bachmann has been the focus of a whole mess o' media attention during her career, much of it has focused on her… unique… take on historical events and her physical attributes rather than on specific policies or beliefs, so it's worth it to try and understand just where the Congresswoman stands.
The Daily Beast article notes that, yes, it's quite obvious that Bachmann is vehemently against gay marriage::
Bachmann once made the news for having hid behind bushes in order to observe a gay rights rally.
In April of 2005, shortly after The Bush Incident, Bachmann attended a forum with her constituents in Scandia, Minnesota when she was approached by two women while washing her hands in a bathroom. The two women were Pamela Arnold, a middle-aged lesbian working for the Minneapolis College of Art and Design who had wanted to speak with Bachmann about her thoughts on gay marriage, and a middle-aged former nun who tried to engage Bachmann in a discussion on theology.

Bachmann responded by crying, screaming "Help!" and running out of the bathroom, later telling police that she was afraid of what the two women might to do her.
But from where did these beliefs come?
Raised in a Lutheran, Democratic household by her mother and stepfather, Bachmann was born again at the age 16. After graduating high school, she traveled to Israel to become more in touch with her new faith and later attended Winona State University, where she met her husband. Bachmann and her husband campaigned for Jimmy Carter in '76, but soon converted to the right, as did many adherents of the burgeoning evangelical movement. [I strongly suggest you read the full Daily Beast article for more details about this, because it's an interesting little slice of American history that just so happened to have huge – huge – implications for our current political landscape.]
Evangelism has played a role not only in Bachmann's politics, but also in the way she expresses herself. Valerie Tarico, author of The Dark Side: How Evangelical Teachings Corrupt Love and Truth, wrote a piece on the way certain politicians use, as she dubs it, "Evangelese" to speak to their supporters, and how it's nearly impossible to mimic this language unless one is intimately familiar with Christian fundamentalist thought and rhetoric. Understanding such rhetoric is a helpful means of putting Bachmann's statements – which may be confusing or downright incorrect to some ears – into context.
Complicating, then, Bachmann's rhetoric and her opinions regarding same-sex marriage is the fact that she has a gay stepsister:
In 2004, Bachmann gave a speech warning that gay marriage would lead to schoolchildren being indoctrinated into homosexuality. She wanted everyone to know, though, that she doesn't hate gay people. "Any of you who have members of your family in the lifestyle, we have a member of our family that is," she said. "This is not funny. It's a very sad life. It's part of Satan, I think, to say that this is gay."

She was clearly talking about her 51-year-old stepsister, Helen LaFave, who had lived with her partner, Nia Wronski, for more than 15 years. As Bachmann became the public face of opposition to gay marriage, her relationship with her stepsiblings grew strained. "Helen always liked Michele, always," says Linda Cielinski, one of Bachmann's other stepsisters. "They lived together as teenage girls. They were very close at that time." Bachmann's anti-gay activism, Cielinski says, "was a hit to the gut."
The political is always personal. And, as Goldberg points out, it's Bachmann's unwavering dedication to her ideals and her ethical code because of or despite her stepsister's sexual orientation that helps cement her favor with her supporters.
Current estimates hold that something between 25 and 30 percent of the U.S. population is part of the Evangelical movement, making this a powerful group in terms of political influence, with same-sex marriage (specifically, opposition to it) being a major concern, even for those on the Christian left.
Several candidates (potential and official) on the right – Tim Pawlenty (an Evangelical Baptist), for instance, and Rick Perry (a Methodist) – have made their religious leanings a major factor in their political careers. And, although he is much more moderate than Bachmann, Mitt Romney's religion – Mormonism – is also often mentioned when discussing his policies, as has Rick Santorum's Roman Catholicism, especially where the latter's stance on gay rights is concerned.
With Bachmann and Romney currently viewed as the party's two front runners, voters who lean to the right, regardless of party affiliation, may make their ultimate decision based on the respective faiths of these two remarkably different candidates – not to mention the impact Evangelical Christianity and Mormonism have on their political leanings particularly where their differing takes on gay rights are concerned.
h/t The Daily Beast
Have a tip we should know? tips@mediaite.com