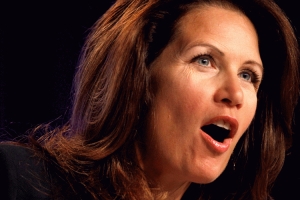 Michele Bachmann's son has recently joined an organization that takes well-trained teachers and has them commit two years to teaching in low-income areas in an attempt to make sure children from those areas get the education they deserve. It sounds like a lofty and selfless act, right? One that would make a mother proud. However, that might be the case as some have noticed that the organization is Teach for America which is part of AmeriCorps, a group that the elder Bachmann once called a "re-education camp."
Bachmann's comments occurred in April of 2009, when the Edward M. Kennedy Serve America Act sought to expand community service opportunities like AmeriCorps. Bachmann said this while being interviewed by radio host Sue Jeffers on Minnesota radio station KTLK-AM:
"I believe that there's a very strong chance that we will see that young people will be put into mandatory service. And the real concern is that there are provisions for what I would call re-education camps for young people, where young people have to go and get trained in a philosophy that the government puts forward and then they have to go to work in some of these politically-correct forums. So, it's very concerning. It appears that there's a philosophical agenda behind all this. And, especially if young people are mandated to go into this, as a parent, I would have a very, very difficult time seeing my children do this."
Well, we all disappoint our parents eventually. God, I still remember the day I told my folks I was going to leave our small coal mining town and never again work in my dad's store, The Mom and Pop Coal Mine Shoppe (we sell coal mines). Instead, I was going to move to New York and follow my dream of being a big city dentist! Clearly, I got a little mixed up along the way but it was still a big moment. So, God speed, younger Bachmann! Follow your dreams!
Check out the quotes in question from KTLK-AM below:
(h/t Think Progress via Soup)
Have a tip we should know? tips@mediaite.com