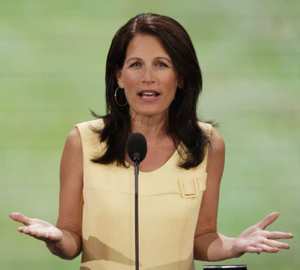 Congresswoman Michele Bachmann (R – MN) recently recorded a interview with conservative radio host Ben Shapiro, and lashed into President Obama. The most noteworthy comments include calling his response to the BP oil spill "infantile," claiming that Obama is siding with Islam against Israel and…wait for it: saying he's the worst president in American history. Now that's hyperbole!
A transcript that highlights the most interesting moments (via Big Government)
At 2:28:
BACHMANN: It's an infantile response for the president to point blame at BP when the president has given over full authority to BP to deal with and manage the cleanup. If the president wanted to, he could intervene and he clearly hasn't.

SHAPIRO: Isn't that a running theme with this presidency? They're all about blame, and not about doing anything?

BACHMANN: He's not about taking responsibility, and that's why I say it's an infantile response to not take responsibility when your'e the president of the United States, and that is all we have seen, unfortunately, coming out of this president is an unwillingness to take responsibility.

At 4:27:
SHAPIRO: I want to ask you, speaking of his violent language, and he's been brutal on BP, talking about putting his boot on the throat of BP, talking about how he wants to go down there and kick someone's ass — frankly, Michele, I think you could take President Obama, off the record.

BACHMANN: Hey, I took karate when I was 17 years old, I am dangerous.

SHAPIRO: I do believe that. That was not said facetiously.

At 5:05:
SHAPIRO: President Obama said in 2008 about his political enemies, who are never terrorists, by the way, but they're members of the tea party — he said to his supporters, "I want you to argue with them and get in their faces … If they tell you, 'Well he's going to raise our taxes,' you say, 'No he's not, he's going to lower them.'

BACHMANN: In other words, go lie to people.

SHAPIRO: Is it fair to call him a liar at this point?

BACHMANN: It's not a truthful statement. That's the elixir of the tea party movement. People are telling the truth.

At 6:55:
SHAPIRO: Is President Obama better or worse than Jimmy Carter?

BACHMANN: Worse. Easily worse.

SHAPIRO: I agree. So far, you'd have to say he's the worst president in United States history …

BACHMANN: No question. No question.

SHAPIRO: … with the possible exception of James Buchanan.

BACHMANN: And the thing is, here we are, people can't wait until November. They're practically lining up for polls now, they can't wait to go out and vote. The only thing is people wish Barack Obama was up for re-election right now, because they'd honestly love to have a chance to throw him out of office. Everywhere I go, people ask me, "Michele, can we impeach the president?" They want a referendum on him. I also had someone today say, "There's no way he'll run for a second term. No way. No one would vote for him." I don't know if the White House understands how the floor has dropped out under support for this president.

At 8:15:
SHAPIRO: Has President Obama sided with the Islamic world against Israel at this point?

BACHMANN: It appears that way. This was horrific.
Have a tip we should know? tips@mediaite.com
Colby Hall - Founding Editor