Michelle Fields Suggests Bad Reviews of Her Book and Megyn Kelly's Book Come From 'Trump Trolls'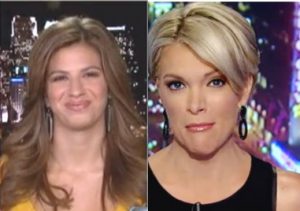 Michelle Fields and Megyn Kelly have a few things in common. They're both female reporters who were working for pretty conservative outlets when they went up against Donald Trump and his campaign for personal attacks they sustained. Trump picked on Kelly publicly for months; former campaign manager Corey Lewandowski was charged with battery for putting hands on Fields during a scrum.
Oh! Another thing they have in common is that they both put out books this year! The books came out after their personal drama ended and Fields, at least, believes that there are plenty of people out there whose view of the books was colored by the turmoil.
The @amazon reviews of my book & @megynkelly's book are almost identical. All trump trolls who haven't read it & are insulting us personally pic.twitter.com/ZYnYaXv9Fe

— Michelle Fields (@MichelleFields) November 16, 2016
Both of them have terrible Amazon reviews and Fields has asserted that they are "almost identical" because they are from "Trump trolls who haven't read" the books.
Here are some of the reviews on Fields' Barons of the Beltway:

Kelly's book, Settle for More, only came out yesterday, but here is a review:
While the above review of Kelly's book is at least a verified Amazon purchase, it still follows the pattern seen in reviews of Fields' book: it mentions Trump's feud with her instead of addressing the book's content.
We already reported on the horrendous reviews of Fields' book earlier this summer, but it's the fact that Kelly's book hasn't even been out for two days yet that makes this particularly noteworthy. Until someone tracks down every single Amazon reviewer and tries to determine if they read the book or not, it will be impossible to say for sure that the reviews are being torpedoed in a retaliatory way, but the addition of Kelly's book to the review-generated madness certainly strengthens Fields' case.
[image: screengrabs]
Have a tip we should know? tips@mediaite.com