Mika Brzezinski Recounts Getting Caught by the Media at Trump Tower: 'Just Get Me Out of Here'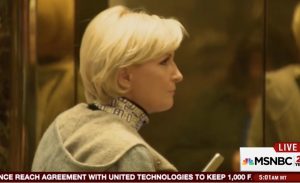 Yesterday, MSNBC's Mika Brzezinski created a bit of a media frenzy when she was spotted in the lobby of Trump Tower shortly after the taping of her show Morning Joe. Immediately, speculation began to swirl about what the anchor was doing there amid transition team discussions.
Brzezinski was even seen sharing an elevator with former Trump campaign manager Corey Lewandowski.
CNN's Dylan Byers first reported that Brzezinski's visit was not a meeting with the President-elect as many had surmised, but rather one with Ivanka Trump regarding the "Knowing Your Value" series.
On Morning Joe Wednesday, the show got a good laugh watching footage of Brzezinski wait in the lobby of Trump Tower while the media pelted her with questions. "Get me out of here!" she recounted.
"Look at her, she just keeps pressing the [elevator] button," cohost Joe Scarborough said giving the play-by-play of the scene.
"Where is it? I'm trying to get into the thing. Where is it?" she continued Wednesday. "Just get me out of here," she said of the moment.
"And then Corey [Lewandowski] shows up!" offered Scarborough
"Oh great! That's good. Oh, you're gonna come in this elevator with me?" she jokingly said.
Brzezinski, for the record, responded to Byers' initial report on Tuesday by telling him he was wrong "again."
.@DylanByers that is wrong. Incorrect information. Again.

— Mika Brzezinski (@morningmika) November 29, 2016
Byers wrote in the CNN Money Newsletter Tuesday night:
An MSNBC spokesperson told me Brzezinski was there "for a meeting with Ivanka Trump," the President-elect's daughter… a Trump spokesperson said they were discussing "an interview opportunity" …
—
[image via screengrab]
J.D. Durkin (@jiveDurkey) is an editorial producer and columnist at Mediaite.
Have a tip we should know? tips@mediaite.com