Mike Huckabee Horrifies Internet With NSFW Tweet Pairing Anal Probing and 'Russian Meddling'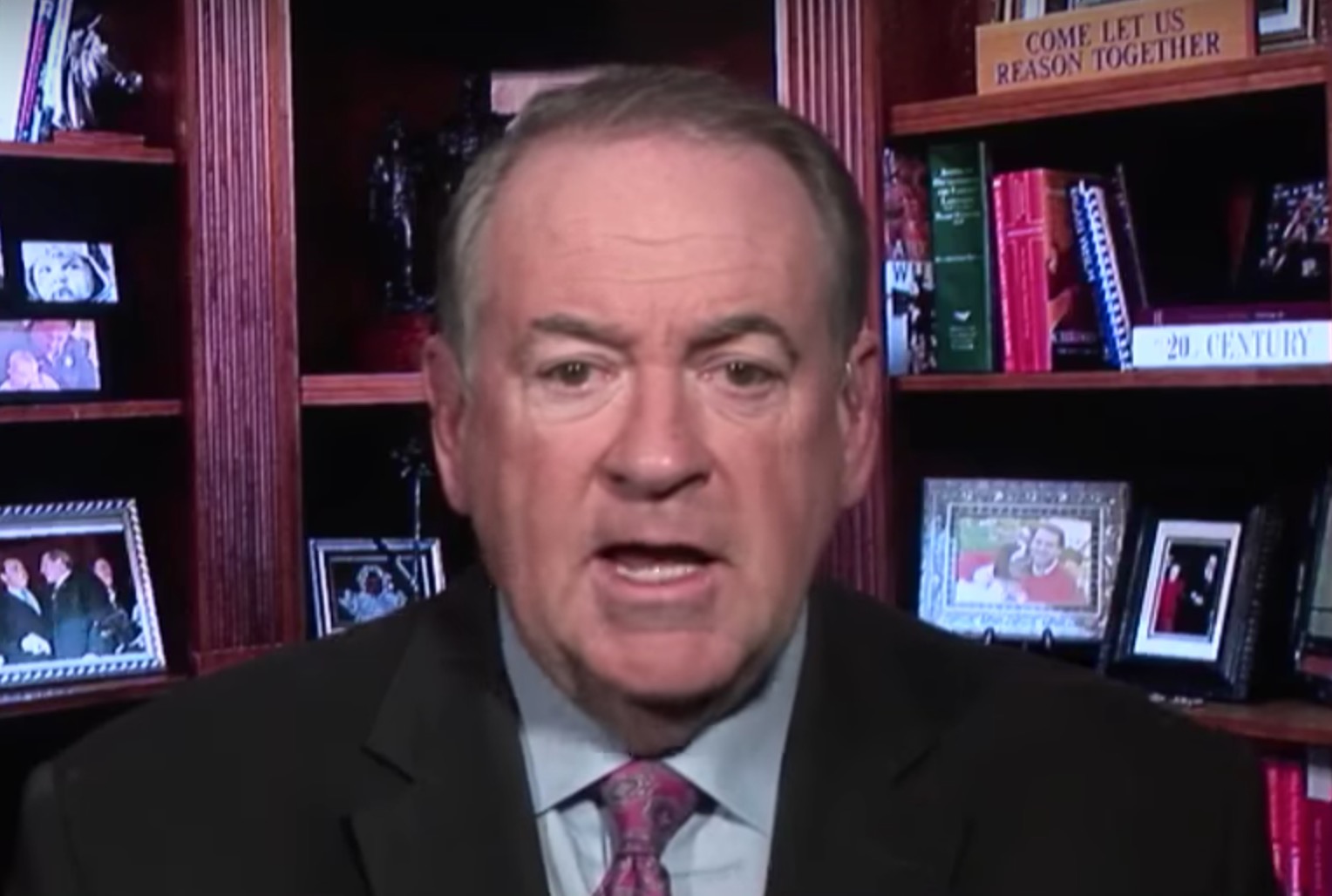 Oh, how the (sort of, I guess) mighty have fallen, Mike Huckabee. You once served as Governor of Arkansas, your daughter's working in the White House, and you're spending your time tweeting about your recent colonoscopy.
Huckabee sent out a tweet Tuesday announcing that he got his butt-al region examined, scarring people everywhere:
Had a colonoscopy today. My doctor was actually Russian. Now THAT is what I call RUSSIAN MEDDLING! They put me to sleep w/ same stuff Michael Jackon used. When I woke up, I MOON-walked right out of the hospital!

— Gov. Mike Huckabee (@GovMikeHuckabee) April 3, 2018
So, to recap, everybody: Mike Huckabee, the former governor of Arkansas and a former presidential candidate, wants the world to know that he had his tush looked at by a Russian doctor, and that he thinks it's a funny joke to call a medical examination of his rear "meddling." Feast your eyes, folks: The most gag-inducing five words in order that were ever put on paper. "Meddling in Mike Huckabee's butt." At least call it a Russian probe, dude. It's equally graphic, but a little more precise.
Also there's the inexplicable bit about the doctor anesthetizing Huckabee with the "same stuff Michael Jackon [sic] used." In what context, exactly? The "stuff" he allegedly OD'ed on? The "stuff" he allegedly used on other people, particularly little boys? You know what, forget I asked.
And if you're moonwalking after a colonoscopy, maybe you should keep that information to yourself. No one wants to know that you had a good time.
Huckabee's tweet, like many of his before it, horrified Twitter for both the quality and content of his disturbing joke:
kill me https://t.co/1NgfviwYXo

— Alex Griswold (@HashtagGriswold) April 3, 2018
/Jaw unhinges completely and the word "folks" issues at ear-splitting volume, rattling the windows of nearby buildings and setting off car alarms. https://t.co/7jH6GLrqCw

— David Roth (@david_j_roth) April 3, 2018
dear god https://t.co/yPRjPSOLSB

— Simon Maloy (@SimonMaloy) April 3, 2018
Governor, congrats. https://t.co/tToIGefXO6

— andrew kaczynski? (@KFILE) April 3, 2018
The Russians have invaded Mike Huckabee. https://t.co/rDLhNaOe9T

— Hunter Walker (@hunterw) April 3, 2018
Area man loves ass-play. https://t.co/aSanW5F00O

— ana marie cox (@anamariecox) April 3, 2018
please turn this website off https://t.co/qoWR5XcCKU

— Gene Park ✈️ PAX East, 4/6 (@GenePark) April 3, 2018
I wasted precious seconds of my life reading this mess so now yall have to see it, too https://t.co/8Y2W7f8mX9

— Astead (@AsteadWesley) April 3, 2018
This is the worst Tweet of all time. https://t.co/loiCz2kVf6

— jake merch ??? (@jakefm) April 3, 2018
what is happening https://t.co/s7zxu8wGsR

— Amanda Golden (@amandawgolden) April 3, 2018
OH MY GOD?! https://t.co/p4iImuH6J1

— Jon Levine (@LevineJonathan) April 3, 2018
Russia joke: C+. One of your better efforts tbh.

Michael Jackson joke: G-minus. Can't give it an F. Too stale, too non-sensical, capitalizing MOON like we don't get the joke. Below an F. G-minus. https://t.co/KM6DAOCyy2

— Ken Tremendous (@KenTremendous) April 3, 2018
In Huckabee's 'God, Guns, Grits, And Gravy' he has a chapter titled "Bend Over and Take It Like A Prisoner." Not saying he has a preoccupation with the concept or anything but he seems to have a preoccupation with the concept. https://t.co/AYjLdJCbkt

— Olivia Nuzzi (@Olivianuzzi) April 3, 2018
[image via screengrab]
Have a tip we should know? tips@mediaite.com