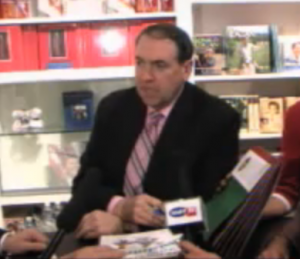 Mike Huckabee's new book is billed as "a heartwarming story of a childhood Christmas," but his discussion during a recent stop on his book tour was far from merry. While promoting the book at the Ronald Reagan Presidential Library, somebody off-camera asked for Huckabee's thoughts on the recent Wikieaks release. And so he gave them: "Whoever in our government leaked that information is guilty of treason," he said. "And I think anything less than execution is too kind a penalty."
Huckabee joins voices as varied as Hillary Clinton and Glenn Beck with his censure of the Julian Assange-led group, and his call for capital punishment echoes some on the more extreme rhetoric surrounding the issue. The former Arkansas Governor and current Fox News pundit went on to explain why he thinks execution would be justified:
They've put American lives at risk. They've put relationships that will take decades to rebuild at risk, and they knew full well that they were handling sensitive documents, they were entrusted and anyone who had access to that level of information was not only a person who understood what their rules were, but they also signed under oath a commitment that they would not violate it. They did. And I believe they have committed treason against this country, and any lives they endanger, they're personally responsible for and the blood is on their hands.
He then turned his attention to the media, accusing the New York Times of showing an "utter, reckless disregard for any responsible journalism by printing something that they know they obtained in a way that is not appropriate." He ends with a slightly more friendly condemnation, one of sugar, which he chalks up to his belief of doing things "in moderation."
Watch the moderate Huckabee's book promotion turn into a grave discussion of treason in the clip below. (h/t Daily Caller)
Have a tip we should know? tips@mediaite.com