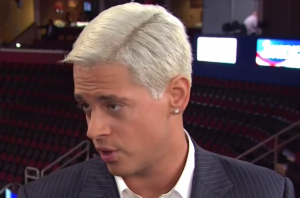 Infamous troll and Breitbart scribe Milo Yiannopoulos gave another bonkers interview to Bloomberg, talking about everything from Donald Trump to Amy Schumer.
And just to give you an idea of where Yiannopoulos took this interview to, he actually said, "We live in a post-fact era. It's wonderful."
"The Washington Post gives a truth check, and no one cares," he said. "Now you have to use the truth and other strategies. You have to be persuasive. Dumpy lesbian feminists and shrieking harpies in the Black Lives Matter movement are not persuasive."
Now, that's not to say he doesn't think there is effective persuasion on the left. After all, he argues, they've dominated American culture:
Yiannopoulos feels the Left is also winning the fight to define what's funny, citing Chris Rock's and Jerry Seinfeld's complaints that comedians can no longer push boundaries when performing on campuses. "The only ones succeeding in comedy are the ones playing victim, the wretchedly unfunny Amy Schumers," he says. "She explicitly sends the message that they should behave like a man—burp and fart and shit and have lots of sex. And these women are going to wind up lonely. If you give a shit about impressionable young women, you have to hate Amy Schumer."
It's clear that Yiannopoulos has a greater interest in culture than politics, especially given how he literally says he only cares about politics because of Trump.
He even said, "I think my legacy might be longer than Trump's. I'm attacking the disease, not the symptoms. Also, he doesn't read. But I still love him. And he's still my daddy. Nobody's perfect."
During the interview, Yiannopoulos also reacted to the hacking of Leslie Jones' website after he targeted her on Twitter:
"Oh, no!" he yells. "Leslie Jones nude photos! No one wants to see that… This is the worst thing ever. Now she's going to get all this victim status. This is what feminists do. She's a public figure. We have no privacy. Get over it."
You can read his full interview––which includes some details about his personal life and background––here.
[image via screengrab]
— —
Follow Josh Feldman on Twitter: @feldmaniac
Have a tip we should know? tips@mediaite.com
Josh Feldman - Senior Editor