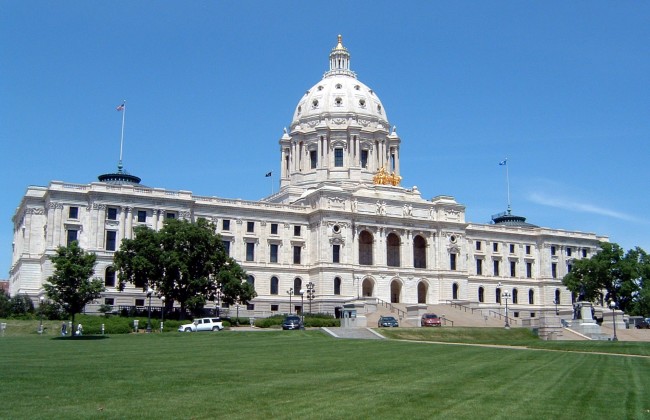 Republicans from Minnesota's Seventh Congressional district are under a Twitter moratorium today after a manager posted a "racist and bigoted" tweet aimed at Minnesota's Democrats-and-Farmer-Labor (DFL) Party Monday evening.
"MN #DFL now propose a "special session" to deal with their self-created "#negroproblem," the since-deleted tweet read. According to the StarTribune.com, a corresponding Facebook post was also deleted. A screengrab of the original Tweet is here: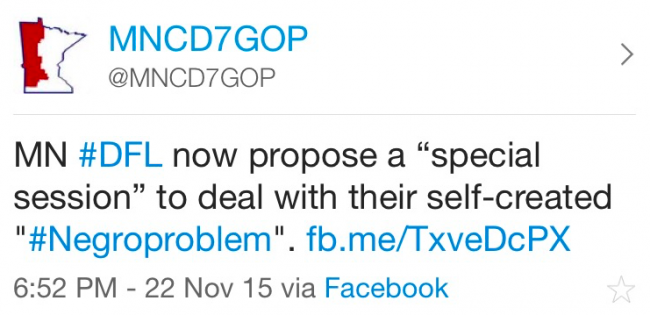 The Minnesota DFL are expected to hold a special legislative in the upcoming months. The group announced last week they hope to expand the session to discuss black joblessness and poverty in the wake of growing #BlackLivesMatter protests throughout the state.
In a statement Monday, DFL Chairman Ken Martin said comments like the one posted to Twitter Monday evening, "have become commonplace in the Republican party, and it should be no surprise that they are now an accepted and normal part of their conversation."
"There is absolutely no place for this kind of ugly language in our state and we call on Chairman [Kevin] Downey to apologize to the people of Minnesota for the racist and bigoted comment from the Minnesota 7th Congressional District Republican Party," the statement read.
In a Twitter post, Downey said the group removed the manager who crafted the tweet. "My apologies to all for their posts," he wrote.
CD7 GOP Twitter moratorium in place and manager being relieved of duties. My apologies to all for their posts.

— Keith Downey (@KeithSDowney) November 24, 2015
[Image via Wikimedia Commons]
—
>> Follow Elizabeth Preza on Twitter (@lizacisms)
Have a tip we should know? tips@mediaite.com