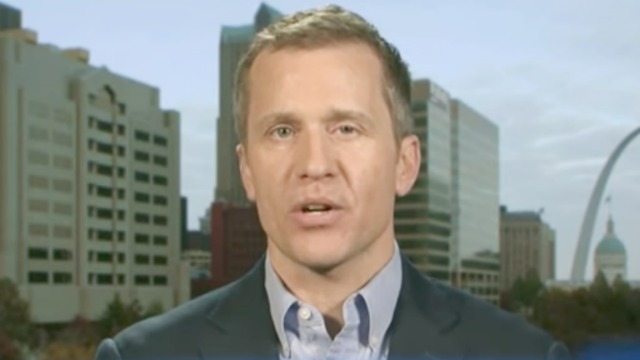 Missouri Gov. Eric Greitens, a longtime supporter of President Donald Trump who sold "ISIS Hunting Permits" on the campaign trail, is facing calls to resign amid a growing sex scandal.
Greitans carried on an extramarital affair with a married woman in 2015, a fact he admitted in a statement.
Now, however, the scandal has deepened considerably, with the woman-in-question accusing the Republican of blackmailing her by taking nude photos without consent — an attempt to persuade her to keep quiet about the affair.
Additionally, she has stated that Greitens slapped her when she revealed that she had sex with her own husband.
A lawyer for Greitens, Jim Bennett, has denied that his client slapped the woman.
"This allegation is completely false," he said. "It never happened. There was never any violence. Anything reported otherwise is untrue and we will explore pursuing all legal action."
Bennett said the allegation that his Greitens took a nude photo as an attempt at blackmail is also false.
"The governor denies that the picture was taken and denies stating the words attributed to him by her on the recording," he said, referring to a secret recording of Greitens allegedly made by the accuser's now ex-husband, which was aired as part of a months-long investigation by KMOV-TV.
Al Watkins, a lawyer for the the woman's ex-husband, stated that more damning revelations are yet to come.
Sen. Doug Libla, a Republican who represents southeastern Missouri, wrote an open letter to Missouri Attorney General Josh Hawley, calling to open an investigation into the matter.
"The seriousness of this allegation and the implications it will have on the integrity of our state government are deeply disturbing," he wrote.
The accuser and her ex-husband have not been named.
[image via screenshot]
—
Follow Lawrence Bonk (@sidescrollers) on Twitter
Have a tip we should know? tips@mediaite.com