Mitt Romney Details His Solutions To America's Challenges In 'What I Learned At Bain Capital'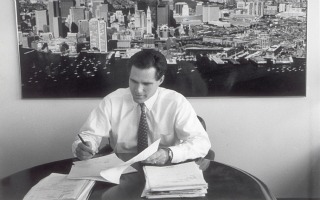 Republican presidential candidate, Mitt Romney, writing in the opinion pages of the Wall Street Journal on Friday, detailed some of his experiences at the private equity firm Bain Capital. Romney's opponents have made a point of attacking his experience at Bain, but Romney has been reluctant to defend his time as the financial firm's CEO. However, in "What I Learned at Bain Capital," Romney appears to be making an effort to communicate how he believes his time with that firm prepared him to be America's chief executive.

Romney opens the piece by noting that, as parents and kids head to the stores to do some back-to-school shopping, one of the stops they make is likely to be Staples – a prominent business that can attribute some of its success to Bain Capital. He goes on to cite a number of firms that have benefited from associating with Bain; from novelty stores like Brookstone, to the contact-lens maker Wesley Jessen to a truck wheel and rim manufacturer Accuride.
But the article does not merely focus entirely on Romney's time at Bain. The narrative weaves in and out of Romney's time as the turnaround artist who was brought in to save the troubled 2002 Salt Lake City Olympics and his period as the governor of Massachusetts.
The lessons I learned over my 15 years at Bain Capital were valuable in helping me turn around the 2002 Winter Olympics in Salt Lake City. They also helped me as governor of Massachusetts to turn a budget deficit into a surplus and reduce our unemployment rate to 4.7%. The lessons from that time would help me as president to fix our economy, create jobs and get things done in Washington.
"A broad message emerges from my Bain Capital days: A good idea is not enough for a business to succeed. It requires a talented team, a good business plan and capital to execute it," Romney writes.
But he does not merely focus on the lessons he learned at Bain, but also the problems Romney experienced that he attributes to the broader economy. Most notably, how the steel manufacturing industry was negatively impacted over the last 20 years by rising energy costs and cheaper competition from overseas.
Romney details the economic challenges that he says America will face in the next four years and outlines how they can be dealt with.
Finally, Romney outlines several economic points that he will address as president: first, he says that he will focus on reforming education to attract and grow an entrepreneurial class that will create jobs. Second, Romney says that he wants to "level the playing field" when it comes to international trade practices that harm American workers. Finally, Romney says the national debt must be reined in in order to restore growth.
This will surely result in much wailing and gnashing of teeth in Washington. But a failure of leadership has created our debt crisis, and ducking responsibility will only cripple the economy and smother opportunity for our children and grandchildren.
Romney concludes that his experience has made him uniquely suited to tackle the challenges the United States faces at this moment, and promises that his administration will restore American competitiveness and create jobs.
> >Follow Noah Rothman (@Noah_C_Rothman) on Twitter
Have a tip we should know? tips@mediaite.com