Mitt Romney Pushes Back At Tea Party Nation Slam: 'I Don't Think There Are Tea Party Chiefs'
Romney Pushes Back At Tea Party Nation Slam: 'I Don't Think There Are Tea Party Chiefs'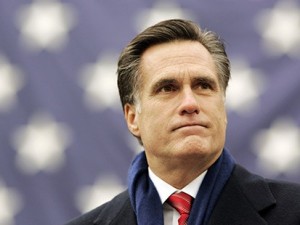 Appearing on The Laura Ingraham Show, Mitt Romney hit back at Tea Party Nation's Judson Phillps, who said on Martin Bashir yesterday that the Tea Party was never going to rally behind Romney as a candidate. Ingraham asked the Republican presidential hopeful why this prominent Tea Party leader was so against his candidacy. "I don't think that there are Tea Party chiefs," Romney countered. "I have people who are some of the most prominent voices in the Tea Party that have endorsed me. I appreciate their help…I see great support from Tea Partiers across the country."
RELATED: Tea Party Nation Founder: 'The Tea Party Will Never Rally Behind Mitt Romney'
"Frankly, what Tea Partiers I hear from are concerned about is a government that is too big and too intrusive," Romney continued. "I'm pretty pleased with the fact that I get good support from Tea Partiers."
"Will a Massachusetts Moderate — if that's the brand, will that beat a Barack Obama with a billion dollars?" Ingraham pressed.
"The truth is we will get behind our nominee," Romney argued. "Because Barack Obama has been a very effective community organizer for our community."
"Do you not have to appeal to the tea party?" Ingraham asked.
"Of course, you have to appeal to…51.4% of the people," Romney contended.
"How will you reassure them?" she interjected.
"Well look at my record," Romney started to answer.
"They are looking at your record," Ingraham shot back.
Romney contended he had a conservative record, and said he had to win over both conservative voters as well as Independent.
Watch Ingraham's somewhat combative interview with Romney below:

Have a tip we should know? [email protected]