Mitt Romney Refuses to Let Obama Blame Him for Obamacare's Slow Motion Collapse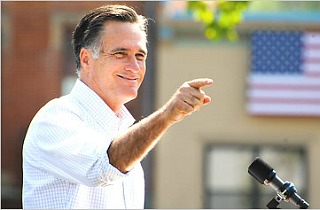 On Wednesday, President Barack Obama will travel to Boston where he will tout the experience of Massachusetts as a state leader in reforming their health care system. You recall, Massachusetts was the model upon which the Affordable Care Act was based. You will further recall that it was former Gov. Mitt Romney who signed the state's health care reform bill in 2006.

Obama's trip to Boston employs all the subtlety of a JDAM. Amid the increasingly politically troubling problems associated with the ACA's roll-out, the president will take to the podium at Faneuil Hall to remind the public that this reform law has Republican finger prints all over it. Good luck with that.
RELATED: Kathleen Sebelius to Congress: 'I Would Suggest the Website Has Never Crashed'
Reminding the public that a Republican governor in a liberal state followed the advice put forward in a 1990s-era think tank memo is unlikely to overcome the general impression that Republicans oppose the ACA as presently constituted. The GOP has gone to incredible, even excessive, lengths in order to forestall or prevent the law's implementation. In fact, the very party now attempting to link the GOP to the ACA's failure equated them with terrorists, arsonists, and hostage takers for their efforts. But the Democrats have few options left to save political face as the ACA's roll-out continues to underwhelm.
But while the president is set to reintroduce Romney into the national debate over health care reform, the 2012 Republican presidential nominee is not sitting back and waiting to be used as a prop by his former adversary. On Wednesday, Romney took to his Facebook page where he took the first shot at the president.
"In the years since the Massachusetts health care law went into effect nothing has changed my view that a plan crafted to fit the unique circumstances of a single state should not be grafted onto the entire country," he wrote.
"Beyond that, had President Obama actually learned the lessons of Massachusetts health care, millions of Americans would not lose the insurance they were promised they could keep, millions more would not see their premiums skyrocket, and the installation of the program would not have been a frustrating embarrassment," Romney continued.
"Health reform is best crafted by states with bipartisan support and input from its employers, as we did, without raising taxes, and by carefully phasing it in to avoid the type of disruptions we are seeing nationally," he concluded.
It is hard to imagine a more embarrassing admission of utter failure than for the recently reelected President of the United States to attempt to resurrect the political corpse of his defeated opponent less than one year after burying it in an attempt to look better by comparison.
[Photo via Dave Weaver/The New York Times]
— —
> >Follow Noah Rothman (@NoahCRothman) on Twitter
Have a tip we should know? tips@mediaite.com