Mitt Romney Releases Ad Based On President Obama 'You Can't Change Washington' Quotelet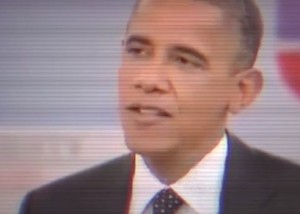 By now, Americans are so used to the dishonesty of Mitt Romney's campaign ads that the Republican presidential candidate is barely even trying to disguise it anymore. On Monday morning, the Romney campaign released an ad (sure to become a weeks-long series) targeting younger voters, based on President Obama's recent declaration that "You can't change Washington from the inside."
The ad is so clumsy in its execution and self-evident in its dishonesty, though, that even the fifth-grader who wrote it would immediately know that the Romney campaign is twisting the quote out of context.
In case you missed it, here's what the President actually said at that Univision forum (the day after Mitt Romney's rigged Univision forum):
You can't change Washington from the inside. You can only change it from the outside. That's how I got elected and how the big accomplishments like health care got done – was because we mobilized the American people to speak out. That's how we were able to cut taxes for middle class families. So, something I'd really like to concentrate on in my second term is being in a much more constant conversation with the American people, so that they can put pressure on Congress to move some of these issues forward.
In case you also missed this, here's what Mitt Romney said while campaigning for president in 2007:
"I don't think you change Washington from the inside. I think you change it from the outside."
If you want to hear what neither of these men said, just listen to the idiotic lines that were written for this ad:
MAN: "The last four years we've been told things will get better."

WOMAN: "Reassured by the countless slogans."

MAN: "Yes, we can."

WOMAN: "Sí, se puede."

WOMAN: "Change we can believe in."

MAN: "Forward"

WOMAN: "But now, 'No, I can't'"

PRESIDENT BARACK OBAMA: "And the most important lesson I've learned is that you can't change Washington from the inside."

WOMAN: "What?"

WOMAN: "No, I can't?"

MAN: "No, I can't?"
No, you can't. Hear, that is. Even on its own terms, this ad fails, following the President's truncated quote with a self-evidently inaccurate paraphrase. It's like this ad was written on a playground. "Did Obama just say the name of a boy who is his friend? Barack Obama has a boyfriend!!"
PRESIDENT BARACK OBAMA: "And the most important lesson I've learned is that you can't change Washington from the inside."
"What? President Obama has cooties?"
The quote itself is obviously the kernel of a larger point (as was Romney's 2007 comment), but if viewers needed to be reminded of this, the commercial's producer ineptly edits the President's quote so that it continues into the next sentence, practically screaming "Google the whole quote!"
After the week he had, it's hard to blame Mitt Romney for getting this desperate, but unless the younger voters he wants are three year-olds, ads like this will only serve to underscore the dishonesty that Romney's campaign has become known for, even in a profession known for its dishonesty.
As for the quote itself, the "you can't change Washington from the inside" theme isn't just a relic of Mitt Romney's 2007 campaign, it's something he trotted out during this cycle's primaries. The President and Gov. Romney clearly have two different visions of how to change Washington; Romney claims it takes an outsider to change Washington (which was a linchpin of Sarah Palin's appeal in 2008, and of much of the Tea Party wave of 2010), whereas President Obama is saying it takes hundreds of millions of outsiders to change Washington, but even an idiot can see that neither of them is saying "No, I can't."
Here's a quick sidenote to political ad producers, as well. Can we please do away with the new signifier-of-evil, the grainy footage that shows the old tube TV-style scan lines? Maybe this is supposed to be a shot at people who can't afford an HDTV, but think about what that looks like on an old-ass TV. You might as well wave a Rorschach test around in front of the camera. You're welcome.
Follow Tommy Christopher (@TommyXtopher) on Twitter.
Memo and Script: (via Romney Press Shop)
ROMNEY FOR PRESIDENT RELEASES NEW WEB VIDEO, "NO, I CAN'T"

Boston, MA – Today, Romney for President released a new web video, "No, I Can't." Reassured by countless slogans, Americans were told things would get better. Now, four years later, President Obama has admitted he can't change Washington. We don't need any more slogans. What we need is leadership.

To View "No, I Can't" Please See: http://mi.tt/Uqtl0S

AD FACTS: Script For "No, I Can't"

PRESIDENT BARACK OBAMA: "Now, you, Class of 2009…"

· PRESIDENT BARACK OBAMA: "Now, you, Class of 2009, are about to enter the next phase of your life at a time of great uncertainty." (President Barack Obama, Remarks, South Bend, IN, 5/17/09)

PRESIDENT BARACK OBAMA: "[S]o now, class of 2010…"

· PRESIDENT BARACK OBAMA: "And so now, class of 2010, the question for your generation is this: How will you keep our democracy going?" (President Barack Obama, Remarks, Ann Arbor, MI, 5/1/10)

PRESIDENT BARACK OBAMA: "Class of 2011, you and your generation…"

· PRESIDENT BARACK OBAMA: "Class of 2011, you and your generation are now responsible for our future." (President Barack Obama, Remarks, Miami, FL, 4/29/11)

PRESIDENT BARACK OBAMA: "[Y]ou, the Class of 2012, has to offer."

· PRESIDENT BARACK OBAMA: "Now more than ever — now more than ever, America needs what you, the Class of 2012, has to offer." (President Barack Obama, Remarks, New York, NY, 5/14/12)

MAN: "The last four years we've been told things will get better."

WOMAN: "Reassured by the countless slogans."

MAN: "Yes, we can."

WOMAN: "Sí, se puede."

WOMAN: "Change we can believe in."

MAN: "Forward"

WOMAN: "But now, 'No, I can't'"

PRESIDENT BARACK OBAMA: "And the most important lesson I've learned is that you can't change Washington from the inside."

· PRESIDENT BARACK OBAMA: "And the most important lesson I've learned is that you can't change Washington from the inside." (President Barack Obama, Remarks At Univision Forum, 9/20/12)

WOMAN: "What?"

WOMAN: "No, I can't?"

MAN: "No, I can't?"

WOMAN: "In 2008, I voted for President Obama. I voted for hope."

WOMAN: "But what I got was a bleak future that's forced me to move back in with my parents."

MAN: "Four years ago, I voted for you. I voted for this."

SENATOR BARACK OBAMA: "[T]hose who tell us that we can't, we will respond with that timeless creed that sums up the spirit of a people: Yes we can."

· SENATOR BARACK OBAMA: "This is our time – to put our people back to work and open doors of opportunity for our kids; to restore prosperity and promote the cause of peace; to reclaim the American Dream and reaffirm that fundamental truth – that out of many, we are one; that while we breathe, we hope, and where we are met with cynicism, and doubt, and those who tell us that we can't, we will respond with that timeless creed that sums up the spirit of a people: Yes we can." (Senator Barack Obama, Remarks, Chicago, IL, 11/4/08)

MAN: "I didn't vote for this."

PRESIDENT BARACK OBAMA: "[Y]ou can't change Washington from the inside."

· PRESIDENT BARACK OBAMA: "And the most important lesson I've learned is that you can't change Washington from the inside." (President Barack Obama, Remarks At Univision Forum, 9/20/12)

MAN: "What we need is someone who can point a way forward and not at each other."

WOMAN: "What we need is a jobs plan instead of more slogans."

MAN: "Leadership instead of more excuses."

WOMAN: "What we need…"

WOMAN: "What we need…"

MAN: "What we need is Mitt Romney"

WOMAN: "Necesitamos Mitt Romney"

MAN: "You're right, Mr. President. No, you can't, but we can't afford four more years of this."
Have a tip we should know? tips@mediaite.com