Mitt Vs. Mitt: DNC Releases Negative Attack Ad Depicting Romney As A Flip-Flopper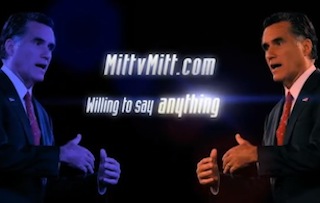 Judging by the latest effort put out by the DNC, it appears that former Massachusetts Governor Mitt Romney is still very much considered to be President Obama's most challenging foe in the 2012 general election. Mitt Vs. Mitt is the latest effort to portray Romney as an individual who appears to have been unwilling to stand on principles on a number of hot-button issues: reproductive rights, economic stimulus, even the legacy of Ronald Regan, at least as he's portrayed in the following campaign.
The Democratic National Committee announced the new campaign via releasing the following statement:
As Mitt Romney continues to say or do anything to become President -including deceive Americans – the Democratic National Committee today is taking its effort to hold Romney accountable for his words to an all new level with a new television ad running in six markets: Albuquerque, NM; Raleigh-Durham, NC; Columbus, OH;
Pittsburgh, PA; Washington, DC; and, Milwaukee, WI on a mix of broadcast and cable.

The TV ad is a trailer for a longer video treatment available on the DNC'S new website, MittvMitt.com – an effort to highlight Mitt Romney's fight against himself on a range of issues from the economy and immigration to a woman's right to choose and workers' rights.

To further amplify the effort, the DNC, along with state Democratic parties and elected officials across the country will hold events to watch the video and put Mitt Romney's fight against himself on full display for voters in key states. We are holding press events everywhere the ad is running and in several other key states: NM, NC, OH, PA, VA, WI, IA, NH, FL, and MA.
The 30 second version:
The longer version:

(H/T Business Insider)
Have a tip we should know? tips@mediaite.com