'Most Divisive Figure in the League Not Named Roger Goodell': NFL Locker Rooms Torn Apart Over Trump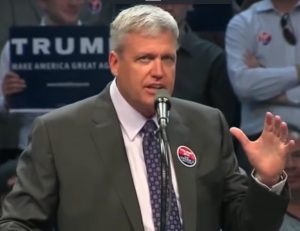 Donald Trump has heavily courted endorsements from notable football figures ever since he announced his presidential candidacy. He has received many, including; New England Patriots owner Bob Kraft, Hall of Fame former Bears coach Mike Ditka, and current Buffalo Bills head coach Rex Ryan.
But according to a new in-depth report, he also has many detractors in the football world. And his run for the White House is apparently tearing NFL locker rooms apart.
Bleacher Report's Mike Freeman took a straw poll of NFL players, and found that 21 out of 21 white players he surveyed plan to vote for Donald Trump in November, while 20 out of 22 black players plan to vote against him.
One unnamed Bills player expressed disbelief over Ryan's support of Trump.
"Rex is such an open-minded guy, a really good person," the player said. "But the fact he could back someone as closed-minded as Trump genuinely shocked me."
Freeman reports that multiple friendships between teammates have ended over Trump. He recounts one such story in detail:
In mid-May, as Trump became the presumptive nominee, two NFC teammates—a right-leaning offensive lineman and a left-leaning linebacker—began to re-examine their friendship because of Trump.

They had known each other for four years. Their wives talked on occasion. Their kids sometimes played together. They sat next to each other in team meetings and went to dinner several times per month. They often joked that politics were off-limits because of their disparate viewpoints. Then, after their first offseason team workout in May, the lineman revealed he would be voting for Trump—and everything changed.

The linebacker, a Clinton supporter, began finding excuses for not going to dinner. The families stopped talking. When the lineman confronted his now former friend, he recalls receiving a blunt response: I can't be friends with anyone who would vote for Donald Trump. I'm sorry.
The only current NFL player to go on the record about Trump with Freeman was Richie Incognito, who was involved in a bullying scandal in which he taunted a teammate with racial slurs.
"I think that he can help this nation get back to a world superpower," Incognito said. "Where I think he could help is putting us first again and having that—it's my mentality, too—having that tough attitude where you put America first and everyone's thinking we're the greatest nation in the world. Don't mess with America. That toughness is where I identify with him."
Check out the full report for more.
[image via screengrab]
–
Follow Joe DePaolo (@joe_depaolo) on Twitter
Have a tip we should know? tips@mediaite.com
Joe DePaolo - Senior Editor