Mother of Walmart Shooting Victim Accuses Police of 'Trying to Cover Their Butts'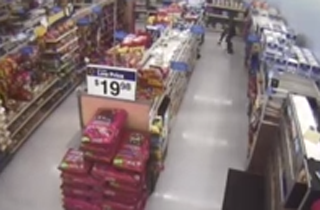 In an interview with The Guardian, the mother of a black man shot in a Wal-Mart for holding a BB gun accused the police of falsely testifying about her son's death.
Upon seeing the newly-released security footage of John Crawford III being shot twice by Dayton police, Tressa Sherrod said that the tapes did not match the account given by Crawford's shooter, Sean Williams. "We've seen the video, we've read the report – it doesn't match," she told the Guardian, and alleged that the police were "trying to cover their butts." (The video shows Crawford placing the gun on the floor and attempting to dodge shots when the police opened fire on him.)
According to her, however, the police were not ultimately responsible for her son's death:
She also expressed dismay over the actions of Ronald Ritchie, the customer whose 911 call and repeated claims that Crawford was pointing the BB rifle at shoppers led police to rush to the store. The synced footage showed Crawford holding the rifle at his side and pointing it to the floor at the time when Ritchie alleged that "he just pointed it at, like, two children".

"I have no idea why he made that call," Sherrod said. "I have no idea why he would do that – why anyone would do that." She echoed a request made by Crawford's father to the Guardian last week for police to investigate Ritchie over the mismatch. "It pisses me off," she said. "I'm so upset about it".
A grand jury in Greene County, Ohio decided not to charge Williams with a crime, a decision that left Sherrod angry. The FBI announced last week that they were reviewing the case.
[The Guardian]
[Image via screengrab]
—
>> Follow Tina Nguyen (@Tina_Nguyen) on Twitter
Have a tip we should know? tips@mediaite.com