MoveOn.org Removes "General Betray Us" Ad In Response To Petraeus Appointment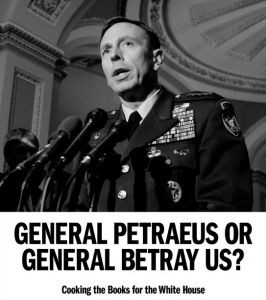 My family is a bunch of diehard Philadelphia Eagles fans. They're also all dog lovers. So, when Michael Vick joined the team in 2009, they were stuck in the awkward position of cheering on a man they'd been calling evil for years. Why am I bringing this up? Because the progressive advocacy group MoveOn.org had a similar problem a couple days ago when they were forced to quietly remove any mention of an anti-Gen. Petraeus ad that had been running on their site for years after President Obama appointed the general to replace the departing Gen. McCrystal.
The ad originally made headlines in 2007 after MoveOn printed a full page version of it in the New York Times. Entitled "General Petraeus of General Betray Us?" the ad charged the general with "cooking the books" for the Bush White House in his ' Report to Congress on the Situation in Iraq. The site then hosted the ad as well as a lengthy article with their reasoning behind it up until yesterday when it and every mention of it were scrubbed from the site. Political blog Weasel Zippers were the ones to catch the change.
Since MoveOn is an advocacy group with no claims to unbiased content, there's nothing unethical about scrubbing the site. However, it is pretty darn funny imagining them hastily running to their computers in the aftermath of Obama's announcement.
Below is a screen capture of the no-longer-available post taken from the cached version of the site (which also no longer exists) by the team at Weasel Zippers.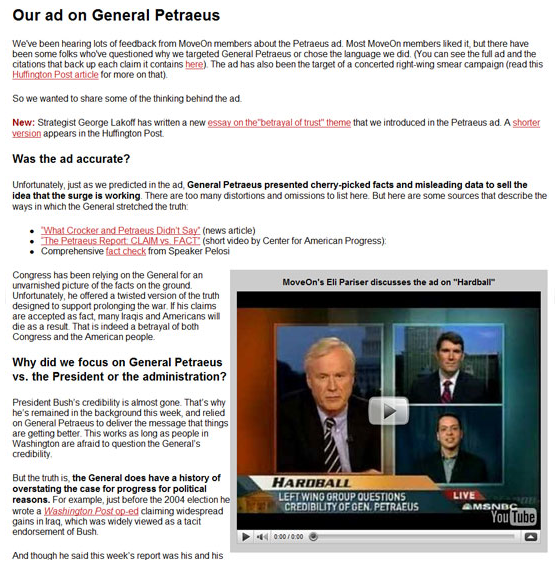 Have a tip we should know? tips@mediaite.com