Movie Blogger War! Prominent Bloggers Accuse One Of Their Own Of 'Blackmail'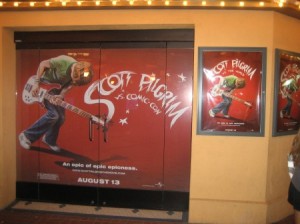 In a bizarre story with all the intrique and action of a (fairly boring) summer blockbuster, it appears that 20 prominent movie bloggers are now turning on one of their own by writing a letter to major Hollywood studios accusing FirstShowing.net's Alex Billington of "blackmail." The Wrap is reporting that the letter was written to persuade the studios to sever their ties to Billington and his site which, in the fast-paced and world of movie blogging, would probably lead to professional ruin. We can only assume that the film adaptation of this story (or HBO series adaptation) is being greenlit as we speak.
Here's what apparently happened (WARNING: For those of you who are older, employed, or never read an article over at Geekosystem, many of the following words and phrases will mean nothing to you). A few weeks ago at Comic Con, Universal Studios had planned secret sneak screening of the upcoming movie Scott Pilgrim vs. The World which featured appearances by the director, Edgar Wright, members of the cast, as well as a post-screening performance by the band Metric. A number of media members were invited but Billington was not. He found out about the screening and threatened Universal that he would release the information about the screening to the public which would have ruined the studio's plans of having Wright triumphantly reveal it after the Comic Con Scott Pilgrim panel. So Universal relented and Billington got into the screening.
Good for him, right? Well, maybe not so much. It turns out that some of Billington's professional rivals didn't like this too much. They then banded together and wrote a harsh letter to every big studio in the city.
From The Wrap:
"The letter, sent Tuesday to Universal and all the major Hollywood film studio publicity departments, calls Billington's actions 'the most clear-cut case of blackmail that I have ever seen.' It calls upon the studios to 'sever professional ties to Alex Billington and First Showing. There is no other way to impress upon him that professional adults do not blackmail one another to get what they want.'

The letter was signed by Harry Knowles of Aintitcoolnews.com, Devin Faraci of Chud.com, Steven Weintraub of Collider.com, Erik Davis at Cinematical.com, and several other prominent online movie webmasters, many of whom participated in or moderated panels at Comic-Con 2010."
To put this in perspective, this would kind of be as if a bunch of other media sites called up MSNBC, Fox News, and all the rest, told them Mediaite was a bunch of jerks, and persuaded them to somehow cancel our cable service. We'd be kind of screwed.
The Wrap interviewed Billington and, while he does admit he acted poorly, he claims much of the story in the letter was false. So, is this a story about a man getting justly punished for acting unethically or the story of a powerful group seeking to snuff out a rival? Either way, it's pretty clear who's not getting invited to the Cool Kid Movie Blogger Parties anymore.
All of them. They're all not getting invited. These are movie bloggers. They don't have Cool Kid Parties.
…aw, who am I kidding? I'm just jealous I haven't seen Scott Pilgrim yet. I love those books!
Have a tip we should know? tips@mediaite.com