Phil Griffin: MSNBC 'Comes From A Progressive Stance'; Isn't 'Ideologically Driven'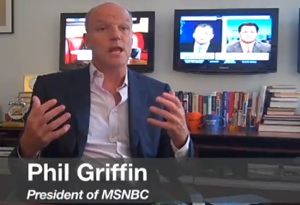 MSNBC recently marked its 15th anniversary with a fancy party of well-heeled attendees, appropriately held at a swank, inside-the-beltway locale. Anniversary aside, there was likely a more urgent reason to celebrate: the successful navigation through some rocky waters over the last six months (the departure of Keith Olbermann and successful transition to a new prime time lineup), with little effect on its overall ratings. MSNBC president Phil Griffin recently sat down with Mediaite and discussed the reasons for the network's success, which included the unrepentant assertion that MSNBC's coverage comes from a progressive stance.
Given the sturm und drang with which many on the right often like to portray MSNBC and its executives, Griffin cuts a relatable, if not humble, countenance. Yes, he has six flat panel televisions on the wall facing his desk so that he can keep an eye on his own channel, his competitors, and even the ongoing action during the British Open. The image on his computer desktop, however, is no different than probably half of the American fathers from around the nation: an image of his son at bat during a little league baseball game.
Griffin isn't short on confidence; his charisma and firm handshake have that Norman Vincent Peale quality that makes you glad you're not in the market for a new car. The Griffin of mythology had the body of a lion and the head of an eagle, but it takes a different combination of qualities to battle monsters like the microscopic news cycle, a Hydra-headed raft of competitors, and a cable news Prometheus like Keith Olbermann trying to steal your fire.
There were certain ground rules for the conversation – certain topics on which he was unable to speak freely due to what one can only assume was a contractual non-disclosure agreement that enabled Olbermann's relatively seamless departure. Still, the departed Countdown host's presence is embedded in the subtext of many of Griffin's responses.
What really shines through, though, is Griffin's pride in the network's current lineup, and the identity it forms. Phil Griffin has been with MSNBC since its 1996 launch, which enabled us to speak not only about the network's current (no pun intended) successes, but also their place in the network's history.
Mediaite: In the last six months you've been through a lot…you endured a new owner in Comcast, some significant executive departures, and the relatively drama-less divorce between MSNBC and Olbermann. All things considered, MSNBC seem to be doing really well. What is it that's working for you, that has your network firmly ahead of CNN?
Phil Griffin: Three words. A passionate audience. I really believe MSNBC now has established itself a very loyal following. It's a brand that we've started, we've really established ourselves in prime-time and in the early morning.
Mediaite: Regarding your current and new programming slate, what is specifically working for you?
Griffin: We are nothing without Rachel Maddow, we are nothing without Ed [Schultz] and Lawrence [O'Donnell] and Chris Matthews. They have created this platform that's really strong. I can't say enough about Rachel. She soared over the last six months, and I think that she's on a total upward traction. The sum is greater than the parts.
We're niche. We exist on a media landscape where you can get so much. We've carved out an area that's smart, that's really thoughtful, that really wants depth, not breadth, and wants original thinking, and nobody has all those qualities more than Rachel Maddow. If you said to me, especially in cable ten years ago, that we're going to begin a show with a 20-minute essay, I'd go, "Really?" But we've evolved. And that's the beauty of what's happened. We've really evolved, where this is what the viewers want.
>>>>NEXT – The transition at 8PM and reliability of MSNBC's current lineup<<<<
Have a tip we should know? tips@mediaite.com