MSNBC Reporter Taunting Donald Trump on Twitter: He 'Doesn't Have a Campaign'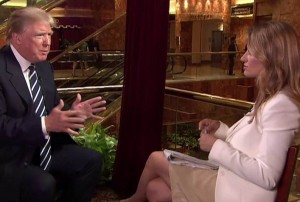 Presumptive Republican presidential nominee Donald Trump has long been engaged in an all-out war with the political press, but it looks like the self-professed "counter-puncher" is finally getting counter-punched by one of his favorite targets. On Monday morning, Trump slammed MSNBC reporter Katy Tur on Twitter moments after her appearance on Morning Joe to report on dissension in the Trump campaign:
People like @KatyTurNBC report on my campaign, but have zero access. They say what they want without any knowledge.True of so much of media!

— Donald J. Trump (@realDonaldTrump) June 6, 2016
Tur has long been a favorite target of Trump's, even in the target-rich environment of the Trump press corps. In December, Trump incited a rally crowd against her by name, and she was called "bitch" by Trump supporters at a subsequent rally. On Monday morning, though, Tur hit back at Trump by directly responding to his latest attack with the matter-of-fact summation of her latest reporting:
Why is Trump calling me out on TV/Twitter? Bc this: Donald Trump doesn't have a campaign (w @BenjySarlin @alivitali) https://t.co/iGk6i2r4W2

— Katy Tur (@KatyTurNBC) June 6, 2016
Tur also heavily promoted the report on Twitter by retweeting several posts complimenting her team's reporting, which relies on at least five unnamed sources within or close to the campaign:
In reporting on Trump's operation, NBC News talked to three Trump aides and two sources working closely alongside the campaign, all of whom requested anonymity in order speak freely.

Veteran operatives are shocked by the campaign's failure to fill key roles. There is no communications team to deal with the hundreds of media outlets covering the race, no rapid response director to quickly rebut attacks and launch new ones, and a limited cast of surrogates who lack a cohesive message.
Trump later responded to the MSNBC report with a more passive/aggressive rejoinder:
I am getting bad marks from certain pundits because I have a small campaign staff. But small is good, flexible, save money and number one!

— Donald J. Trump (@realDonaldTrump) June 6, 2016
Have a tip we should know? tips@mediaite.com