MSNBC's Ari Melber is Doing Something Different at 6 PM… And It Looks Like It's Working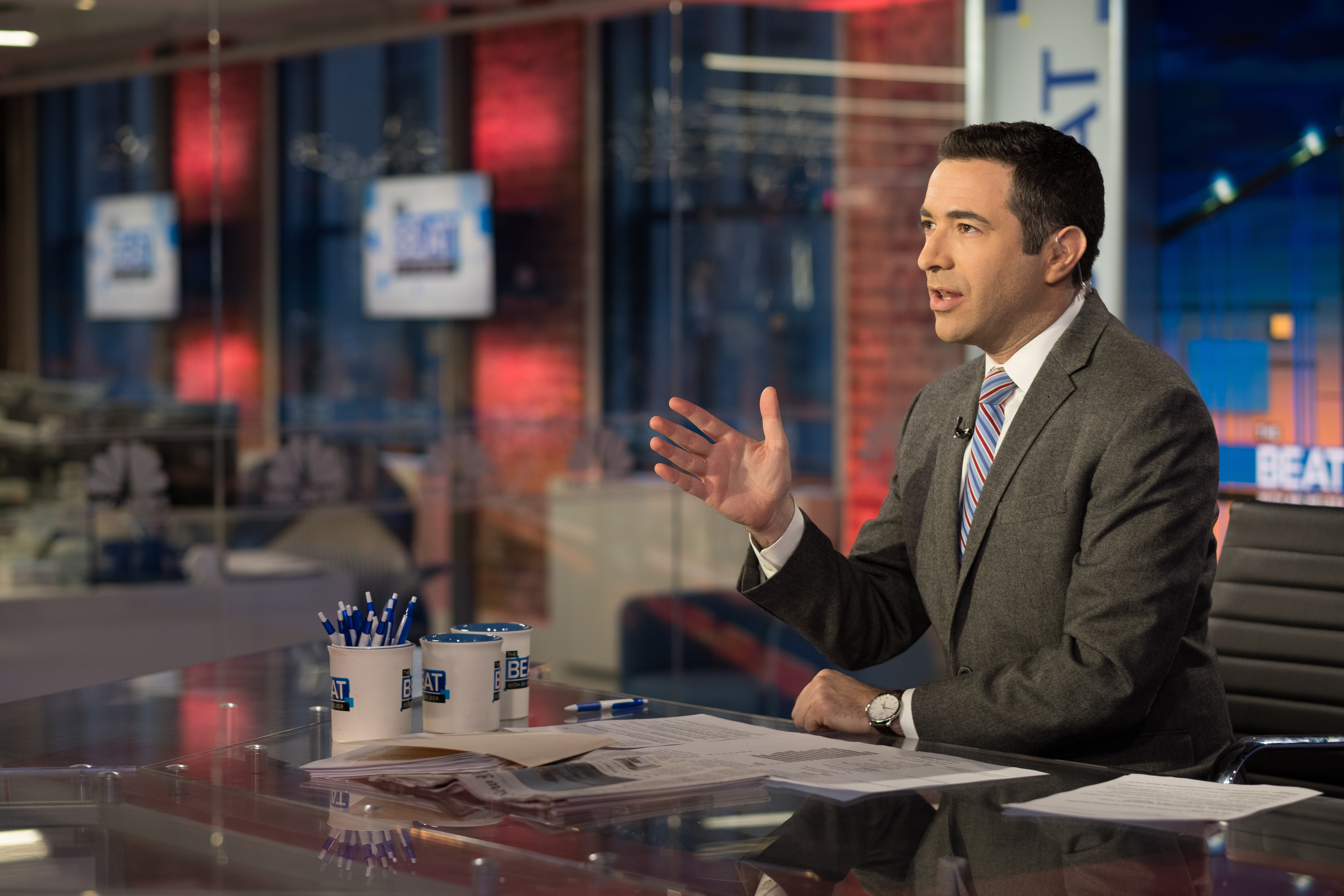 Monday night on MSNBC, Ari Melber — host of The Beat, which airs nightly at 6:00 p.m. ET — conducted an interview which might strike some as being a bit out of place during a program which has evolved into a serious news hour. But according to the MSNBC anchor, it's exactly the type of interview that sets his show apart.
Melber, on Monday, sat down with Hamilton star Daveed Diggs and actor Rafael Casal — co-writers and stars of a new comedy-drama which centers around a police shooting. The MSNBC host jokingly asked Diggs about his preparation for his role as Thomas Jefferson in the original Broadway production of the hit play.
"In studying for that role, did you know previously that Thomas Jefferson was such an accomplished rapper?" Melber asked, tongue-in-cheek.
Diggs laughed, and the segment was brought to a close shortly thereafter. But if Ari Melber had his way, he and Diggs likely would've launched into a full-scale breakdown of Lin-Manuel Miranda's lyrics from the Broadway smash. Speaking with Mediaite on Monday afternoon, hours before his conversation with Daveed Diggs was broadcast, the MSNBC host and lifelong hip-hop fan explained that segments like those are his favorite part of the job.
"I finally get to meet some of the musicians and rappers that are my childhood heroes," Melber said — referencing on-air conversations he's had with hip-hop icons from Fat Joe to Havoc of Mobb Deep.
Of course, his conversations with those guests haven't quite gotten the same attention as, say, Melber's post-pardon interview with Sheriff Joe Arpaio. Or his fiery rants aimed at Facebook and its founder, Mark Zuckerberg. Or his many wild conversations with former Trump campaign aide Sam Nunberg.
On the strength of those segments and others, The Beat — which, on Tuesday, marked its one-year anniversary — is more than holding its own in a very competitive 6 p.m. time slot. Despite squaring off against high-profile programs such as those hosted by Bret Baier on Fox News and Wolf Blitzer on CNN — to say nothing of the network news shows — The Beat averages 1.3 million total viewers per night, up 27 percent over 2017. The Beat is also up 15 percent from last year in the advertiser-coveted adults 25-54 demographic.
This at a time when CNN and Fox News have seen declines in the 6 p.m. hour. Though Melber, according to Nielsen, still trailed Baier by roughly 820,000 total viewers (The Beat pulled down 1,374,000 viewers in the second quarter of 2018, compared to Special Report's 2,194,000), and 143,000 viewers in the key demo (Fox News topped MSNBC 396,000 to 253,000), The Beat is besting CNN's The Situation Room in total viewers. The second quarter showed Melber topping Blitzer by 595,000 viewers overall, though he did trail by 4,000 viewers in the demo.
According to Melber, that success is a result of digging on major issues which others may be ignoring.
"It's considered a challenging time slot because we are up against such famous stars from the other cable news channels," the 38-year-old Melber told Mediaite. "So I knew that going in, and I tip my hat to them and their records. We are trying to build a show that will cover all the big news stories. You can always come to us first. But then we'll also broaden out to some other important things that may not get as much news attention."
At the top of that list is The Beat's comprehensive coverage of Facebook. Regular viewers of the program know that few subjects elicit as much passion from the host as the social media giant — and their responsibility as a global behemoth.
"It seemed like they were putting profits and their own international agenda literally above democracy itself," Melber said. "And while everyone knows companies are here to make money, that kind of of trade-off is very problematic. And, indeed, as we pointed out, it would be illegal for other types of regulated companies. They're new enough that Congress hasn't necessarily legislated all this."
Melber believes his work on this front has had at least something of an impact, and Zuckerberg and Facebook are starting to see the light.
"We tried to expose their decisions and values in away that reflects the fact that a lot of them aren't very defensible," the anchor said. "And I think even they came around to that view."
The 38-year-old MSNBC host clearly takes pride in his commentary on Facebook. Still, he admits not everything has gone according to plan in year one.
"This job is really hard," Melber said. "And some days, I don't feel like we put on the perfect show I might want."
Specifically, Melber concedes that it's tough not to be suckered into changing his show's rundown thanks to something like a last-minute pre-broadcast Trump tweet.
"When you have a President of the United States who is so fixated on media and wants to create content and often troll the country, it's an extra challenge to make sure we're both accurately reflecting what's happening regardless of one thinks about the players while also not falling into those traps of those distractions and trolling."
The host added, "I'm sure anyone can point to nights where we might not have handled that perfectly."
Another challenge the show has had to navigate is the question of whether or not to put Trump campaign aide Sam Nunberg on the air. Some critics have questioned the ethics of interviewing a man who has seemingly been, at times, unhinged. Melber believes he's been justified in speaking with Nunberg on The Beat.
"We have had him back at times when he was newsworthy, [like] when I questioned him about the lines of inquiry of the [special counsel Robert Mueller probe and he revealed they were asking about nondisclosure agreements to women," Melber told Mediaite. "That proved to foreshadow the direction that probe took. I don't know if we would have known as much about that if we hadn't directly heard from someone who was questioned by Mueller's investigators — which is a relatively small group of people, and most of them won't go on TV at all."
Melber added, "If we find if someone is a constant liar or somehow has veracity issues that rise to a certain level we may consider whether they are not worth the audience's time and thus restrict them. But, in general, we try to err on the side of making sure we hear directly from sources, not excluding sources."
The Sam Nunberg interviews have featured, at times, highly combative back-and-forth between host and guest.
So why do Nunberg and others with whom Ari Melber has sparred keep coming back?
"I hope it's because they still see this is a very serious interview that is still respectful and civil," he said. "Even if it is, at times, testing their premises."
"And," Melber added slyly, "it's also probably because now that we're averaging 1.3 million nightly viewers it's a place they know they're gonna reach a lot of people."
In other words, guests like Hamilton's Daveed Diggs are coming on The Beat because they see a host who's not throwing away his shot.
[photo courtesy of MSNBC]
——
Joe DePaolo is a Senior Editor for Mediaite. Follow him on Twitter @joe_depaolo.
Have a tip we should know? [email protected]
Joe DePaolo - Senior Editor