MTV Video Music Awards Played 'F**k Donald Trump' Song During Commercial Break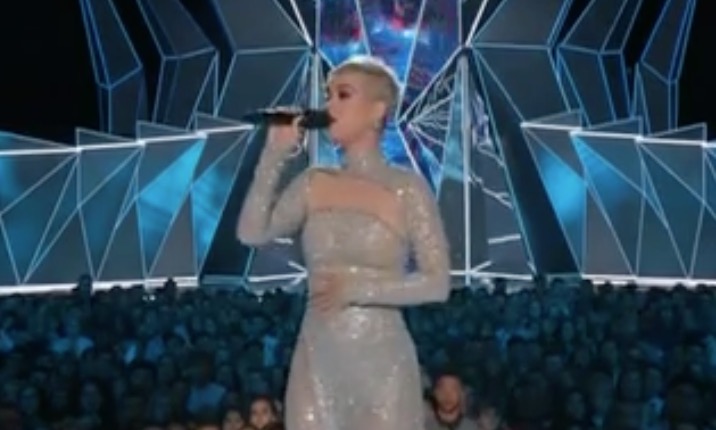 This year's MTV Video Music Awards, like nearly every award show for the past two years, was hijacked by a political agenda. No longer did artists come together to actually celebrate art; they came to together to mock and demonize Donald Trump. Celebrating art became secondary.
Host Katy Perry kicked off the ceremony with a string of poorly-written sketches, the first one being about her "return" from space only to find out that the world is "on fire" and that we're in the midst of a "apocalypse" since Trump won the election, something she'd later on mock because he didn't win the popular vote. Paris Jackson, daughter of the late Michael Jackson, took some shots at the president and called to "resist" the "Nazi white supremacist jerks." The band 30 Seconds From Mars seemed to pay tribute to the Antifa movement with lead singer Jared Leto wearing a ski mask like many of them wear before they riot and commit acts of violence like they did at UC Berkeley earlier that day. Pink, who was there to accept the Michael Jackson Vanguard Award, wore a ribbon that read "Wake The F**k Up!" on one side and "Fump Truck" on the other. Presenter Pete Davidson (of SNL) wore a t-shirt that read "Dead Presidents" with a gun pointing to the Roman Numeral "II," clearly referring to the assassination of Abraham Lincoln and John F. Kennedy and perhaps hinting there should be a third. And Charlottesville victim Heather Heyer's mother Susan Bro presented the "Best Fight Against The System" award, a category MTV conveniently added to both its VMAS as well as their TV & Movie awards after President Obama left office, even though her daughter was killed by a deranged white nationalist and not "the system." And it begs the question why MTV would invite a grieving parent whose child died of domestic terrorism in Charlottesville but not any of the grieving families who have lost loved ones after terrorist attacks in Boston, Orlando, or San Bernardino. Is it that white supremacists are an easier target for the network than Islamic extremists?
Not everything from this year's VMAs were unintelligent or one-noted. There were numerous calls for diversity and acceptance of individuality and there was an entire musical act that focused on suicide prevention. That being said, it's obvious that MTV's message to its viewers was "F**k Donald Trump," but it turns out the network was even more direct with its message with the people at the ceremony.
The Hollywood Reporter's Scott Feinberg tweeted this video during a commercial break that shows the VMAs playing the song "F**k Donald Trump" in the arena.
A song apparently called "Fuck Donald Trump" is playing during the commercial break at the VMAs. pic.twitter.com/u5drfEzwEh

— Scott Feinberg (@ScottFeinberg) August 28, 2017
If you're not familiar with the song, it was released by rappers YG & Nipsey Hussle in April 2016 while the 2016 primaries were still underway.
Using foul language hasn't stopped MTV from bleeping out words before, and there were plenty of moments during that ceremony where bad words had to be cleaned up. So why was it that MTV, the music network that virtually celebrates music only once a year, felt the need to hide a blatantly hateful song against our president from hitting the airwaves?
It's because they're a bunch of cowards.
It's one thing for individuals like Paris Jackson or Pete Davidson to spout their hatred for Trump because they're doing so on behalf of themselves. No one would blame the network if the general public were outraged with something that was said. However, the network would receive backlash if they allowed such a song to become a focus at the VMAs. They could've easily used that song to introduce some presenter after coming back from a commercial break. Hell, they could have invited YG & Nipsey Hussle to perform "F**k Donald Trump" right on that stage, yet they didn't because as resentful as MTV is of President Trump, they didn't have the courage to be full-throated with their views.
But if MTV has such a position that their animosity towards Trump is at full capacity, why not just simply express themselves like they encourage their viewers to do? Because such actions would have consequences, which is the reason why that song played during a commercial break and not in millions of households across the country. They're a bunch of spineless weasels who can talk the talk but in the end would rather pocket money than double down on their hatred for Trump.
This is an opinion piece. The views expressed in this article are those of just the author.