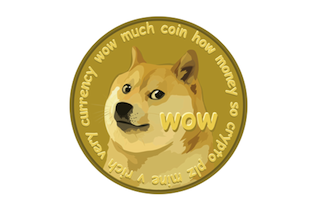 A cryptocurrency that started as a joke and took the face of an internet meme nobody particularly understands—what could go wrong?
Well, a single hacker could steal it, is what. That appears to be what happened on Christmas Day, when a dogecoin thread filled up with reports of people trying to send dogecoin for Dogemas (I dogequit) only to find their dogewallets emptied; one person claimed to have lost $1 million in dogecoin (about $300, according to the experts).
The virtual currency—the equivalent of about $12,000—was instead transferred to the address DQT9WcqmUyyccrxQvSrjcFCqRxt8eVBLx8, who is now dogerich.
RELATED: Bloomberg Anchor Gifted a Bitcoin Live, Immediately Robbed of It by Viewer
The creators at dogewallet posted the following response:
We found many reports of Dogewallet transactions being sent to 'DQT9WcqmUyyccrxQvSrjcFCqRxt8eVBLx8'. We're currently looking at logs and have found thousands of attempts to hack our systems.

Specifically, the attack originated from the hacker gaining access to our filesystem and modifying the send/receive page to send to a static address. We're currently reviewing logs for information. The site is shut down right now.

We're incredibly sorry to all users who lost funds from the attack. Please use offline wallets as online wallets are meant for new users who aren't using them as a storage of coins. Offline wallets are more safe and secure than any online wallet due to possible attacks that can originate from anyone, anywhere.

If you were affected by this:

All invested user balances will be fully compensated first. We'll be working on compensating as much balance as possible that wasn't invested right after (roughly 15-30m can be compensated immediately). Send me a Reddit message with your information and address if you had an investment (not balance) on the site.

http://www.reddit.com/r/dogecoin/comments/1toz92/dogewallet_explanation/
This particular scribe, especially when liquored up, has been known to proclaim a desire to purchase a few dogecoin for the LULZ; so maybe this was a needed corrective. Much foresight. Very caution. Wow.
[Image via screengrab]
——
>> Follow Evan McMurry (@evanmcmurry) on Twitter
Have a tip we should know? tips@mediaite.com